Tesla: Elon Musk floats plans to take carmaker private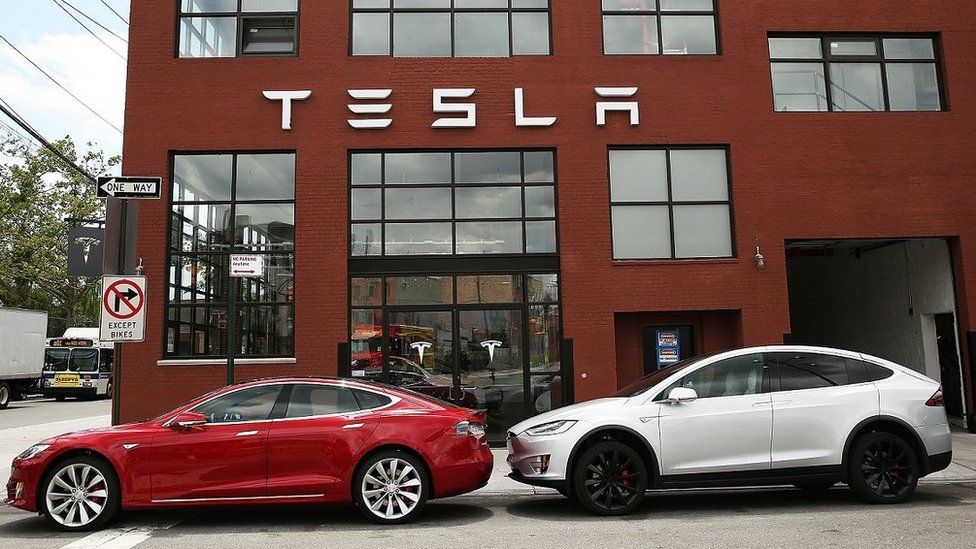 Tesla boss Elon Musk is considering taking the electric-car firm private, a move he claimed was the "best path forward" for the company.
He said de-listing from the stock exchange meant Tesla, currently valued at $63.8bn (£50bn), would no longer be under the glare of Wall Street.
In an unusual move, Mr Musk first made the announcement on Twitter rather than via an official regulatory disclosure.
But analysts are sceptical about what would be the biggest buyout in history.
Since Tesla floated on the stock market, Mr Musk has clashed with analysts and complained that quarterly scrutiny of the firm's finances encourages short-term thinking.
Tesla shares ended the day 11% up at almost $380 per share - close to their all-time high. Mr Musk said shareholders would be offered $420 per share, valuing the business at more than $80bn, including debt.
A buyout at that value would make it by far the biggest such deal. The current biggest is the purchase of utility TXU Corp in 2007 for $44bn by a consortium that included KKR and TPG.
Mr Musk claimed to have secured funding to buy out shareholders, but did not provide details.
However, he also warned that "a final decision has not been made" about the move. Any buy-out would need a shareholder vote.
BBC business editor Simon Jack said that if it emerges that Mr Musk did not have solid financial backing for a buyout he could be in trouble with regulators for share price manipulation.
Am considering taking Tesla private at $420. Funding secured.

— Elon Musk (@elonmusk) August 7, 2018
While Twitter was an unconventional way to make the announcement, the US market regulator, the Securities and Exchange Commission, allows firms to use social media outlets like Facebook and Twitter in this way provided investors have been told which social media outlets will be used.
Mr Musk, who owns almost 20% of the company, said he hoped the move would shield the firm from distracting swings in the share price and the pressure to meet quarterly financial targets.
He also said he wanted to end "negative propaganda" from short sellers, investors who bet on the shares of a firm going down.
"Basically, I'm trying to accomplish an outcome where Tesla can operate at its best, free from as much distraction and short-term thinking as possible," he wrote.
Mr Musk has discussed the drawbacks of being a public company before. But his tweets stirred confusion initially, given his history of informal use of the social media service.
For example, on April Fool's Day, he joked on Twitter about Tesla going bankrupt.
Mr Musk's plan would allow investors to choose to retain their holdings. He planned to hold onto his shares and hoped to continue as chief executive, he added.
Gene Munster, an analyst at Loup Ventures, said Mr Musk had a "one-in-three chance" of managing to succeed with his plan.
"The 16% premium to the current share price may not be high enough to incentivise existing shareholders to support the sale," he added.
And Steven Kaplan, a University of Chicago professor who researches private equity, said it would be difficult for Mr Musk to raise finance when Tesla has still not made a profit.
"The company is cash-flow negative. How do you use any debt on a company that is cash-flow negative?" he said.
I don't have a controlling vote now & wouldn't expect any shareholder to have one if we go private. I won't be selling in either scenario.

— Elon Musk (@elonmusk) August 7, 2018
My hope is *all* current investors remain with Tesla even if we're private. Would create special purpose fund enabling anyone to stay with Tesla. Already do this with Fidelity's SpaceX investment.

— Elon Musk (@elonmusk) August 7, 2018
Analysis: Simon Jack, BBC business editor
Elon Musk had better have the money lined up to take Tesla private or he could be in serious trouble with regulators.
There is never a dull moment with the mercurial Mr Musk, but he excelled himself on Tuesday, stunning the markets by tweeting that he was considering taking the company private by buying publicly available shares for $420 each.
The shares surged, which will have left the people who have been betting the shares would fall nursing very heavy losses.
It will have given Mr Musk great pleasure to get one over on the naysayers. But he's playing a potentially dangerous game.
If it turns out his Twitter promise - that he has secured the tens of billions of dollars he would need to buy out public shareholders - is in any way shaky, then he could find himself accused of price manipulation. It's a very serious charge, which can land you in jail.
Mr Musk's disclosure stirred further speculation about Tesla's future.
The firm is spending heavily as it ramps up production of its latest car, the Model 3.
It reported a record loss in its most recent quarter, and some analysts say it will need to raise money in order to survive.
However, Mr Musk has said he has no plans to do so and promised that the firm will be profitable in the second half of the year, barring any unforeseen events.
The tweets came after a separate report in the Financial Times that Saudi Arabia's sovereign wealth fund had taken a 3%-5% stake in Tesla, a holding worth at least $1.9bn.
The article said the state fund, overseen by the powerful crown prince Mohammed bin Salman, had been interested in buying newly issued shares.