House of Fraser store closures to go ahead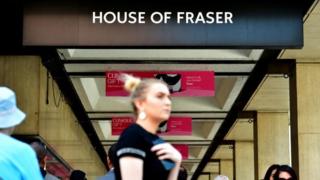 House of Fraser has settled a legal row with a group of landlords removing one hurdle to a potential rescue deal.
The deal means the department store chain can go ahead with its plan to close 31 of its 59 shops in January.
The landlords had argued slashing rents on remaining stores was unfair to them, putting the rescue plan in jeopardy.
However, the deal will not be enough to safeguard House of Fraser's future, with it now urgently seeking fresh investment in order to survive.
House of Fraser said it was now "focused on concluding discussions with interested investors" and the out-of-court settlement with the landlords had removed "any risk to those discussions".
Potential suitors for the chain include Philip Day, owner of Edinburgh Woollen Mills, and whose retail empire includes Peacocks, Jane Norman, Austin Reed and Jaeger.
Sports Direct boss Mike Ashley, who already owns an 11% stake in House of Fraser, also approached the chain in July over a potential investment deal.
Mr Ashley is understood to have not communicated with House of Fraser's financial advisers' Rothschilds since then, and The Sunday Times has suggested he is unlikely to proceed with a rescue deal due to concerns over the chain's pension funds.
However, industry insiders say House of Fraser's two defined-benefit pension funds are fully funded.
Other names in the frame as possible saviours include investment funds Alteri, an offshoot of US hedge fund Apollo, and Hilco, both of which specialise in buying up troubled firms and turning their performance around.
The chain's future has been thrown into doubt after Hong Kong-listed C.banner, owner of Hamleys, pulled out of plans to take control and invest £70m in the retailer.
'Matter of weeks'
Richard Lim, boss of independent research consultancy Retail Economics, says it is still "hard to know with any certainty just what will happen next at House of Fraser."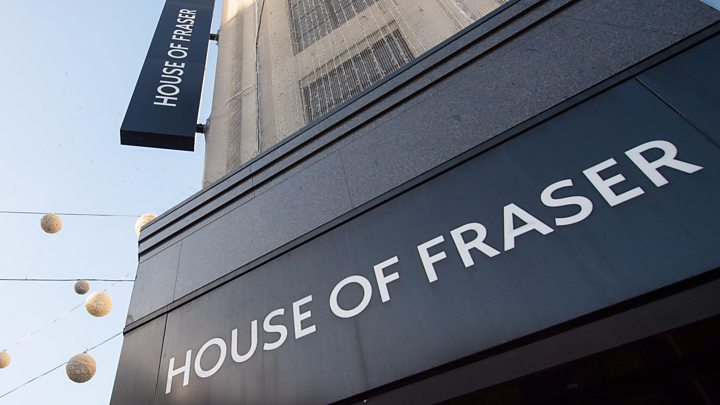 "But it is in desperate need of a rescue package. Without any external funding it is inevitable it will fall into administration.
"Funding will have to be in place within a matter of weeks, rather than any longer period, if House of Fraser is to have a fighting chance to ensure its future."
The retailer employs 17,500 people - 6,000 direct and 11,500 concession staff.
House of Fraser is using company voluntary arrangements (CVAs), a form of insolvency proceedings, to overhaul its business.
CVAs are being increasingly used by struggling retailers as a way to close stores, but landlords argue that they are being abused as a quick way to cut rents.
Mark Fry of Begbies Traynor and Charlotte Coates of JLL, who advised the group of House of Fraser landlords throughout the CVA process and subsequent legal challenge, said they were pleased with the settlement.
"The retail CVA process in the UK has become increasingly misused and prejudiced against landlords and needs correcting.
"CVAs were designed as a means to rescue a business, not simply a tool to shed undesirable leases for the benefit of equity shareholders," they added in a statement.
House of Fraser is one of a number of retailers struggling amid falling consumer confidence, rising overheads, the weaker pound and the growth of online shopping.
Electronics chain Maplin and toy chain Toys R Us both collapsed into administration earlier this year.
Other High Street chains such as Mothercare and Carpetright have been forced to close stores in order to survive.