Interest rates: Your questions answered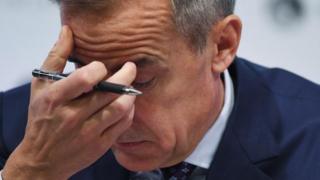 The Bank of England has raised interest rates from 0.5% to 0.75% - creating extra burden for some borrowers but rewards for some savers.
Following the decision, BBC News website readers submitted questions about how the Bank rate rise might affect them.
Here, we have selected eight to answer.
Steven Redpath asks: At this rate when can savers expect to see a return on their investments above the rate of inflation?
After the last rate rise in November, half of savings accounts were unchanged. Of those that did see a rise, it was not always the full 0.25%.
The same may be true this time, with banks and building societies relatively choosy about which accounts and what level of savings will receive a better return.
No easy access savings accounts pay more than the rate of inflation, and even those that top the best buy tables remain some way off.
As to if, and when, they pay more than inflation, turn to a crystal ball.
Dapo asks: Are we likely to have another interest rate rise before the end of 2018?
It is very unlikely and investors certainly do not expect another rise for about a year.
The mood music from the Bank of England is that any future rises will be gradual and limited.
The financial markets have taken this on board and are forecasting one, perhaps two, similar rises of a quarter of a percentage point before 2020.
It also seems unlikely the UK will return to interest rates of 5% and above any time soon.
Alex Day asks: Will this affect the interest rate on student loans?
Student loan rates (for loans after 2012, and postgraduate loans) are based on the level of inflation, as measured by RPI, the retail prices index.
This is calculated using the March inflation rate, and changes in September.
For these loans, there is no direct link to the Bank rate. However, interest rates are used by the Bank to keep the cost of living, measured by inflation, under control.
The theory is that no interest rate rise might have pushed the inflation rate higher, which in turn could have eventually fed through to student loan rates.
For earlier loans, we shall have to wait to see.
Max asks: I live in the euro area with a pension from the UK. What are the forecasts for pound/euro exchange rates?
This is a tricky one to answer, not least because there are a number of issues that are affecting the value of the pound.
Sterling actually fell slightly against the dollar and the euro after the Bank announced its decision, and as the Bank's governor Mark Carney was speaking at a press conference afterwards.
The reason for this seems to be investors' reaction to Mr Carney's comments on the risks of a cliff-edge Brexit, and that rates would only rise slowly and gradually in the future.
"Rates can be expected to rise gradually. Policy needs to walk, not run, to stand still," he said.
Luis asks: What is the reason for increasing interest rates when the economy has a slowdown?
The Bank of England says that, actually, there is a pick-up in the economy, which has been supported by a rise in household spending.
The BBC's business editor Simon Jack says that the timing of the rise is mainly to do with pay levels.
"After five years of pay growing at a measly average of 1.75%, pay rises are now running at an average of 2.75% and are expected to go higher," he says.
You can read more about why this matters here.
Sam Southby asks: I currently have a mortgage in principle with the bank. Will they honour the 0.5% rate, or will it be revised?
Generally, an agreement in principle will not guarantee a certain rate, unless it is stated in writing.
Andrew Montlake, director at mortgage brokers Coreco, says that usually it is only when an application is made - the point at which sometimes a fee is paid - that a rate is locked in.
That said, assuming the deal is a fixed rate, there is a chance in a competitive market that the lender might not put up the cost anyway.
Chwee Ange asks: How will the interest rate rise impact on pension annuity rates?
A reminder: an annuity is a fixed retirement income for the rest of your life that can be bought once with a pension savings pot.
The generosity of that income depends on the annuity rate, which generally would be expected to improve as gilt yields improve during a time of rising interest rates.
William Burrows, of Better Retirement, says: "Annuity rates have been in the doldrums since the EU referendum in 2016, when gilt yields fell dramatically. Any increase in the Bank rate should result in higher gilt yields, which will in turn lead to higher annuities.
"However, don't hold your breath waiting for annuity rates to rise, because it is normally a slow process."
Mark asks: I am on a repayment mortgage. Mortgage is fixed for two years. Is that going to affect my monthly payments?
No. None of these fixed-rate deals will see an immediate rise.
However, it may be the case that when it comes to renewing that mortgage, the new fixed deals on offer - or the default variable mortgage rate that your deal reverts to - may have become a little more expensive.