Sports Direct profits fall after £85m hit on Debenhams stake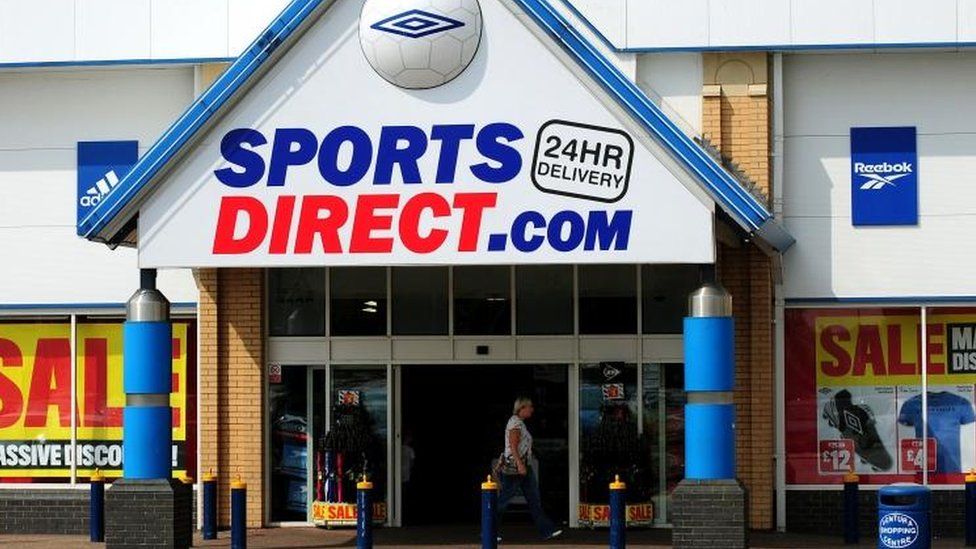 Sports Direct has reported a sharp drop in annual profits, in part due to its exposure to struggling department store chain Debenhams.
Pre-tax profits fell to £77.5m in the year to 29 April, down from £281.6m the year before.
The drop was partly due to a £85.4m hit the retailer took on the value of its near-30% stake in Debenhams.
Sports Direct - which is run by founder Mike Ashley - said its UK sales were down 2% over the year to £2.2bn.
However, total group revenues rose 3.5% to £3.4bn helped by an increase in sales from outside Europe.
Shares in the retailer fell by 11% at one point, before recovering slightly to stand 7% lower.
Sports Direct - which was founded by chief executive Mike Ashley - began building up its stake in Debenhams in 2017. It currently holds a 29.7% stake in the department store chain - just short of the 30% threshold that would force it to make a takeover bid.
However, Debenhams is struggling, and has issued three profit warnings so far this year. The chain is undergoing a turnaround plan designed to cut costs and boost sales, but its chief executive Sergio Bucher has said the UK retail sector is facing "exceptionally difficult times".
In addition to its stake in Debenhams, Sports Direct also owns an 11% stake in House of Fraser, which recently announced a major restructuring.
Speaking to the BBC's Today programme, Sports Direct's head of strategic investments, Liam Rowley, said "We hope House of Fraser will come out stronger from the restructure."
Mr Rowley also told the programme that "retailers need to work together", otherwise "Amazon's going to eat your lunch".
As well as the impact of the Debenhams stake, the sharp fall in Sports Direct's profits was also partly due to the previous year's figure being boosted by income from the sale of the Dunlop brand.
Stripping out these factors, underlying pre-tax profits rose to £152.9m from £113.7m the year before.
By Dominic O'Connell, Today business presenter
Five years ago investors greedily bought Sports Direct shares. They wanted to catch a ride with someone they thought was a retail wizard - Mike Ashley.
The shares roughly quadrupled in value between 2012 and 2014 because Mr Ashley seemed to have the secret recipe to defy the gloom gripping the rest of the High Street. Since then the wheels have come off, mainly because of revelations of how Sports Direct treated it staff.
Today's results call into question Mr Ashley's entrepreneurial instincts. His gamble on the department store chain Debenhams - Sports Direct owns nearly 30% - has come unstuck, costing £85m over the past year as the Debenhams share price tumbled. The jury is out on a similar punt on House of Fraser, in the middle of a painful restructuring that will see it shed thousands of jobs.
These one-off hits obscure a much bigger question. Mr Ashley is spending heavily to make Sports Direct a much higher-quality retailer - the so called Elevate programme.
The dividend payment to shareholders has been scrapped to help fund the investment. If Mr Ashley is right on this, he might be forgiven the disastrous forays into other retailers.