Jenson Button: 'Engineering skill beats natural talent'
By Jane Wilkins
BBC News global education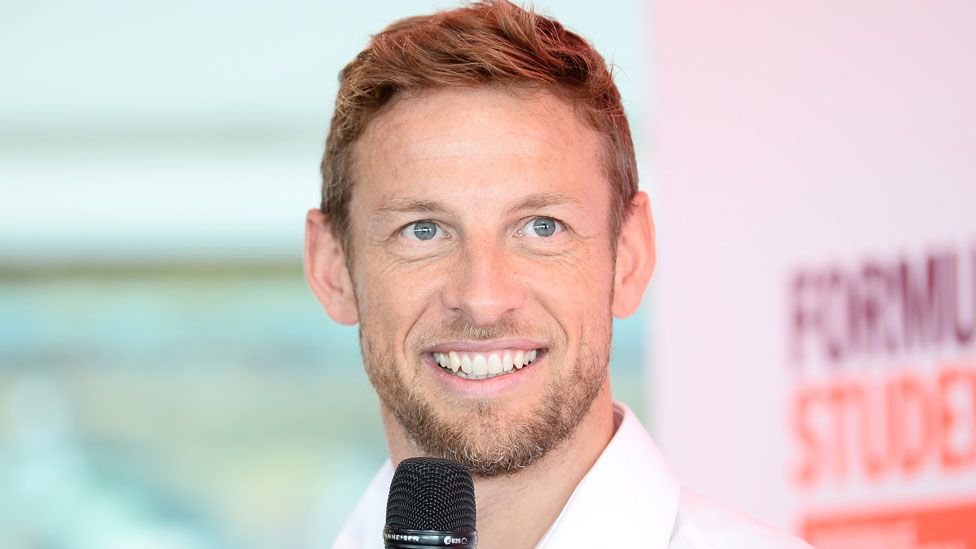 Jenson Button may be a Formula One world champion, but a lack of engineering skills nearly ended his career in its infancy.
The racing driver admits he faced a steep learning curve as his technical knowledge left a lot to be desired during his early days on the circuit.
"Real life engineering is tough," said Button, who won the world championship in 2009.
He said when he entered Formula One a lack of engineering knowledge "really hurt me in racing".
"I really struggled because you needed to really work with the car, develop the car, and I was not very good at that at all, whereas my teammate was," he told competitors at this year's Formula Student competition, held this weekend at the Silverstone racing track in Northamptonshire.
"It almost ended my career being bad at engineering and not having any understanding of a racing car."
"I knew how to drive a racing car quickly, but if I couldn't adjust that racing car to put it into a competitive state before I drove it, it doesn't matter how good you are as a driver," he said.
Formula Student is an international engineering competition, with over 3,000 students from round the world taking part, with teams trying to create a prototype for a single-seat racing car.
It's an attempt to address a global shortage of recruits into engineering - and Button says that it's also an opportunity for young people to get into the racing industry, whether as engineers or drivers.
Button, who holds an honorary degree in engineering from the University of Bath, joined the Formula One circuit in 2000, and says that while his first year in motor sport's top class should have been "a big learning curve" it was not, because "everything just came too easily".
"You just think your talent is enough as a racing driver, but it never is."
He praises former teammate Rubens Barrichello, saying the Brazilian driver's "engineering skills were beyond any other racing driver that I've worked with".
"He's the only guy that I thought: 'Wow, I look up to you on the engineering side of things'."
Other routes into the sport - such as karting where Button started his career at eight-years-old - are becoming increasingly expensive, he suggests.
"It is pricing a lot of kids out and kids that have possibly more natural ability than any F1 driver on the grid right now.
"You don't know because they've never had the opportunity to race. And obviously, natural ability is one thing but then you need to nurture that and people don't have the money to do that.
"Having the opportunity at university to build a racing car and race it here in competition, I think is a great direction for a lot of people."
He adds: "For people who haven't had the opportunity to race I think it's perfect, and you're getting a fantastic education at the same time."
Many of the teams involved in Formula Student are doing so as part of degree projects.
There are participants from countries including Egypt, Sweden, the UK, Pakistan and Australia, with a combustion engine team from Monash University in Melbourne, Australia, crowned the overall winner.
It is held amid growing concerns about a lack of young people going into engineering.
Gustaf Aurelius, part of the team from KTH University, Stockholm in Sweden said engineering has always been important, but its value as a career should be sold for the pleasure of the job, rather than the money.
"We're more for the enjoyment of the engineering work - and I've really noticed since I've been here over the last few days that if you love what you're doing it's not a job," he says.
The Santander banking group has a division supporting higher education and this funded 10 of the competing teams.
Matt Hutnell, director of Santander Universities UK, said that encouraging young people to come to the event not only gets them excited about engineering, but helps them develop workplace skills.
"These students are not only doing their degree, but they're actually getting real-world experience of competing and being part of a team and that ultimately makes them more employable."
The editor of Global education is sean.coughlan@bbc.co.uk