Boeing 'concerns' over US-China trade row
By Tim Bowler
Business reporter, BBC News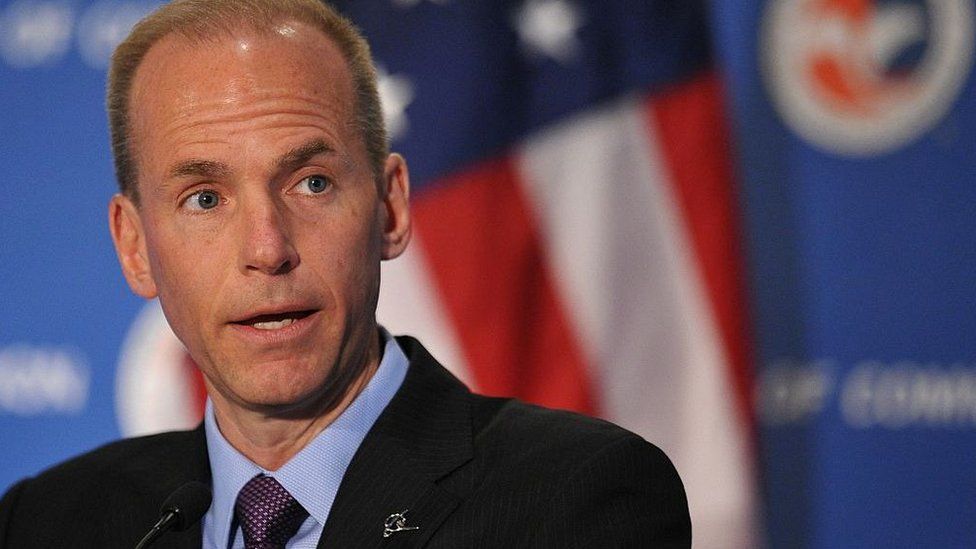 The head of US aerospace and defence giant Boeing has warned about potential damage of the growing US-China trade row.
"Aerospace thrives on free and open trade," said chief executive Dennis Muilenburg.
He said he was concerned tariffs could push up costs for aircraft manufacturers.
"The aerospace sector drives economic benefits globally," he added.
With both the US and China imposing tariffs on each other's goods, Mr Muilenburg said Boeing wanted to find "alternative solutions" to trade disputes.
"We are concerned it could affect supply chain costs - but those supply chains are flowing in both directions [between China and the US], it is an intricate network around the world."
Speaking to reporters ahead of this week's Farnborough Airshow, Mr Muilenburg insisted that the White House was listening to his firm's arguments.
"We engaged very much with both governments [in China and the US," he said, "our voice is being heard." He was hopeful that there would be a "good resolution" to the disputes, adding "our job is to maintain a long-term perspective".
This month, the US imposed tariffs of $34bn (£25.7bn) on Chinese goods. In response, China introduced equivalent tariffs on US imports, such as pork and soya beans.
President Trump has now gone further and threatened to impose tariffs on a further $200bn of Chinese trade. China has said it will retaliate.
The US has also imposed tariffs on steel and aluminium imports - a 25% tax on steel and 10% tax on aluminium from the EU, Mexico and Canada.
All of this has raised concern that these multiple trade disputes will slow global growth.
Mr Muilenburg said that Boeing has not yet felt the impact of any tariffs on its business, but added that "the rhetoric about potential penalty actions are a concern for us".
On China, Mr Muilenburg said that Beijing "well understood" the need to expand their aerospace capability to drive their growth.
"We understand their long-term aim to be a global competitor. The idea of co-operation, collaboration and competition in China - this is the business model - it's not new."