Wedding and weather lift economy in May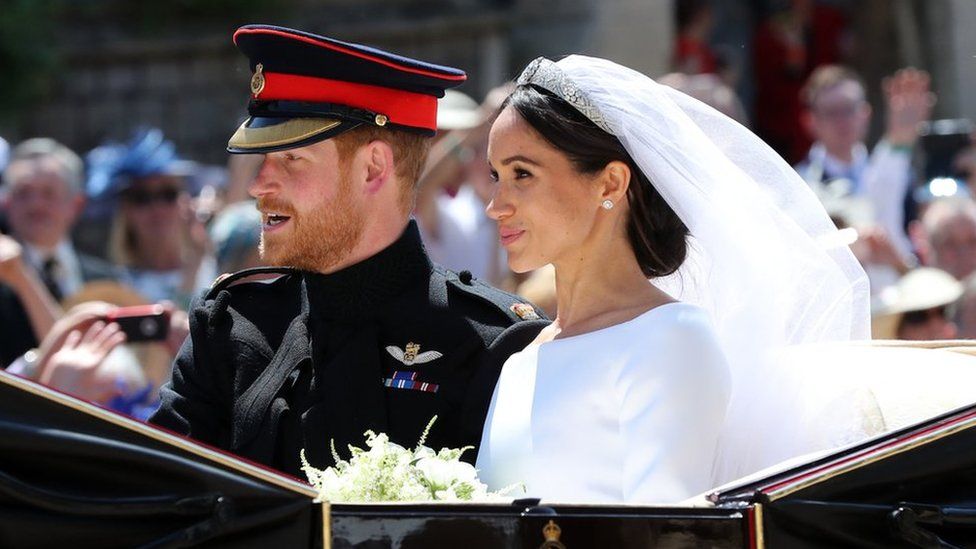 The UK's economy grew by 0.3% in May, helped by the royal wedding and warm weather, latest figures show.
From now on, the ONS will release a monthly indicator and a rolling three-month figure. Previously it only put out growth data every three months.
In the three months to May, the economy grew by 0.2% compared with the previous three-month period.
"The first of our new rolling estimates of GDP shows a mixed picture of the UK economy with modest growth driven by the services sector, partly offset by falling construction and industrial output," said the ONS's head of national accounts, Rob Kent-Smith.
"Retailing, computer programming and legal services all performed strongly in the three months to May, while housebuilding and manufacturing both contracted.
"Services, in particular, grew robustly in May, with retailers enjoying a double boost from the warm weather and the royal wedding. Construction also saw a return to growth after a weak couple of months."
Ian Stewart, chief economist at Deloitte, said: "The long awaited bounce-back from a weak first quarter has failed to materialise, with the rolling three-month growth rate unchanged into May.
He added: "The fact that first-half growth is set to be below trend hardly makes a compelling case for an August rate rise."
However, Samuel Tombs, chief UK economist at Pantheon Macroeconomics, said the upturn in May was "just strong enough to tip the balance" in favour of an August rate rise, "provided the government doesn't implode before then".
Kamal Ahmed, BBC economics editor
Getting a little better, pretty slowly. Today's economic growth figures for May reveal that the "bounce-back" from the weather-related misery of the first three months of the year is small, though not insignificant.
The services sector - which accounts for 80% of our economy - is stronger. Construction activity was also up by 2.9% compared with the previous month - although we must always take care with monthly figures, which can tend to be volatile.
This morning's retail sales figures from the British Retail Consortium also revealed a pick-up. We are all doing a bit more shopping.
The royal wedding and sunny weather are doing their bit now, in the way the snow and frost depressed February and March.
There is little in today's figures that will surprise the Bank of England, which is contemplating increasing interest rates next month. It predicted a "bounce-back" earlier in the year.
And against a subdued background, there is evidence today that is happening.
Other figures also released by the ONS showed:
Why have the UK's GDP statistics changed?
Basically, in an effort to make them more reliable.
Until now, the ONS used to release a preliminary estimate of GDP four times a year.
But this early quarterly estimate was based on about 40% of the information necessary to produce a full estimate of GDP, so it was subject to change as more data came in.
The new policy should mean that the figures do not need to be revised as much in subsequent months.
How have the statisticians managed to do this?
The ONS's new monthly and rolling three-monthly estimates will be compiled with what it calls "a significantly higher data content".
The office says it has spent money on upgrading its systems so that it can gather and analyse information in a more timely fashion.
In particular, the service sector, which contributes 80% of the UK's GDP, will now be measured more speedily than before, it says.
What are the advantages and disadvantages of the change?
It will bring the UK more into line with other developed economies, which tend to produce more accurate initial quarterly estimates that don't need such big revisions.
In fact, the ONS intends to leapfrog other countries, by making the UK the first big economy to produce a monthly figure.
However, in the short term, it could be bad news for one of the ONS's biggest customers, the Bank of England.
The Bank's interest rate-setting Monetary Policy Committee is due to meet on 2 August, amid speculation that it could raise rates by a quarter of a percentage point to 0.75%.
Under the old timetable for release of GDP figures, MPC members would have been armed with a preliminary estimate of second-quarter growth. But now those figures will not be available until 10 August.
The ONS says those figures will be more comprehensive and accurate because of the delay. But that is no help to Bank policymakers as they wrestle with their key economic decision.