Tesco UK chief steps down over cancer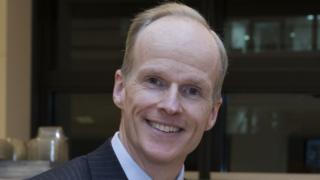 Tesco's UK chief executive, Charles Wilson, is stepping down from the company board after being diagnosed with throat cancer.
Mr Wilson was formerly boss of food wholesaler Booker, but became Tesco's UK chief following the supermarket's £3.7bn takeover of Booker in March.
Tesco said Mr Wilson had responded well to treatment and all the signs were that it had been successful.
However, there was a need for him to "remain vigilant in his recuperation".
Mr Wilson will remain on Tesco's executive committee and will focus on leading the Booker business. He will continue to report to Tesco's overall chief executive, Dave Lewis.
Jason Tarry, currently the group's chief product officer, will become the chief executive of Tesco UK. All changes take effect on 16 July.
"Following an operation to remove his tonsils in April of this year, Charles Wilson was diagnosed with throat cancer," Tesco said in a statement.
"During May and June, he has been undergoing daily radiotherapy."
Booker was the UK's largest food wholesaler when it was taken over by Tesco.
Despite concerns that the deal would reduce competition, it was approved by the Competition and Markets Authority without objections.
More recently, Tesco has announced it is planning a "strategic alliance" with French retail giant Carrefour.