Is this African teenager a future coding superstar?
By Ijeoma Ndukwe
Ikeja, Nigeria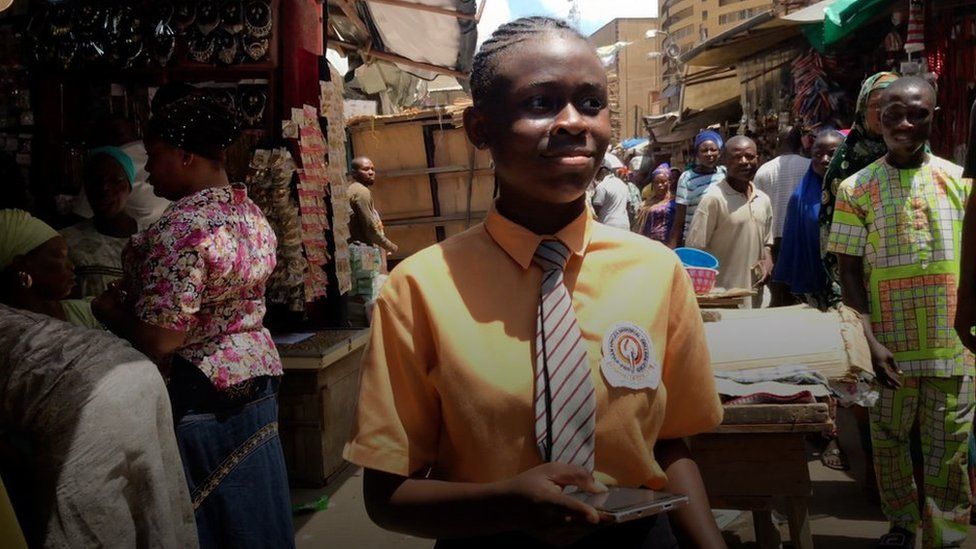 Schoolgirl Tomisin Ogunnubi is a teenager with a passion for programming.
Three years ago she created My Locator, an app which helps children who are lost.
The mobile app, which is available on the Google Play Store, has already been downloaded more than 1,000 times since its debut in 2016.
"The app can also link you to Google Maps and show you the directions from your current location to the location that you had previously saved," says Tomisin, who is now 15 and studies in Ikeja, Nigeria.
"It also has a functionality where when you click on an alert button. It sends a text message and makes a phone call - that's if you've enabled it in your settings - to a particular number that you've designated to it.
"It could be an emergency number or it could be a family member's number. It's basically your choice. So in case of an emergency, when you need an urgent response, it sends your current address to that number so somebody can easily locate where you are."
"I was very conscious about security, thinking… there are different dangerous people, so I guess the idea of being able to go out safely might have been what triggered the idea for the app," she explains.
"But it was me then as my 12-year-old self thinking, 'Oh I've just learned how to create applications. How about I use what I have learned to create something that can be useful to me and other people?'"
Aniedi Udo-Obong, a programme manager at Google, says there is a lack of Nigerian role models in the industry, with most people in the country still pointing to figures like Elon Musk and Mark Zuckerberg.
But more graduates are recognising the sector as a viable way to make a living and to founding technology firms, he adds.
Aniedi regularly comes across entrepreneurs brimming with ideas in his role at Google. His job includes building relationships with developers to boost the sector across Africa. He admits there's a need to improve My Locator, but says that Tomisin has already made the most important step.
"I'm impressed with Tomisin's app for two reasons. I prefer to see products in whatever state they are than to hear about the most brilliant idea," he says.
"I like the fact that someone hatched an idea in their head and was able to bring it to fruition and complete it."
Tomisin's computer science teacher, Kofoworola Cole, says the teenager's achievements have changed the school's approach to teaching the subject. It's also had a ripple effect among her fellow students.
"It gave us more courage to be able to start from junior students, normally we focused on seniors. But when Tomisin was able to achieve that, we knew that, yes, there are talents in the junior school," she says.
The BBC's Innovators series reveals innovative solutions to major challenges across South Asia and Africa
Aniedi says greater investment in education is needed to bridge the gap in learning between affluent students and those from under-privileged backgrounds.
"We have seen initiatives targeted at primary schools [for] young children in other countries like Estonia, the UK, China, Korea.
"I have fears that we're going to be left behind if we don't get our own children learning at the same rate with the same tools and technologies that their contemporaries in other countries and other markets are learning," he says.
For her part, Tomisin is very clear about the relevance of IT. "Technology is the future and being able to know technology is being able to solve problems," she says.
"I'm passionate about it because being able to make a difference is something that I really like to do."
This BBC series was produced with funding from Bill & Melinda Gates Foundation