Brexit plan: Was it business wot won it - or lost it?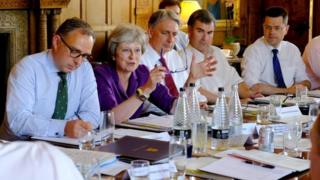 Boris Johnson may not have much time for the concerns of business, but the version of Brexit settled on by the cabinet at Chequers shows that the government was ultimately prepared to sing in harmony with the "siren voices" of concerned companies like Airbus and Jaguar Land Rover.
Their dire warnings over future investment in the UK were carefully noted and amplified in cabinet by the Business Secretary, Greg Clark, and the Chancellor, Philip Hammond.
As my colleague Kamal Ahmed has noted here, while shots were being fired in public by the likes of the foreign secretary and high profile backbench eurosceptic Jacob Rees-Mogg, these business-friendly ministers were quietly reinforcing arguments that only a Brexit which preserved super-close alignment with the EU on customs and standards could safeguard trade, investment and jobs.
David Davis feels that in giving in to the concerns of big business, the government has capitulated too early, betraying the spirit of Brexit - in other words, it was business wot lost it. For other ministers, resisting the realities of modern supply chains and holding out for more was, in the words of Cabinet Secretary David Liddington, "like holding a gun to your own head".
Business lobby group the CBI this morning welcomed Dominic Raab to his new post as Brexit supremo, while reiterating its view that the Chequers accord was a genuine "confidence boost" to firms struggling with uncertainty. It also called on EU leaders to approach the proposals with an "open mind".
Dominic Raab has a very tough job ahead of him. The EU has grave concerns on just about everything in the government's proposals.
The customs plan would see the UK act as a border authority for a bloc of which it is no longer a member. A common rulebook on goods (in which we are a net importer) combined with a looser arrangement on services (in which we are a net exporter) looks like the kind of cherry-picking the EU has said will not be tolerated, and there is very little detail on the big one - freedom of movement.
Anything that seeks to divide the four freedoms - goods, services, capital and labour, which these proposals seem to prise apart - will be met, at best, with great suspicion, at worst with outright hostility.
As we move forward towards March 2019, look out for a shift in the way these negotiations are conducted. So far it has been the Davis-Barnier show, with EU leaders happy to let Michel Barnier be the face of wide and complex EU interests. I'm told that from now on, the UK government will want to go round as well as through that channel, with a much more direct conversation with the Merkels and Macrons of the world.
Just because the government seems to have decided something (albeit with some collateral ministerial damage), doesn't mean this negotiation got much easier.