Bank of Mum and Dad: Are poorer parents more generous?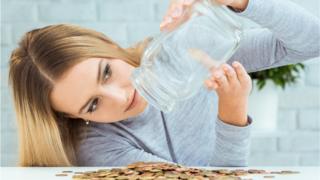 When it comes to topping up university maintenance loans, poorer parents may be more generous than wealthier ones.
According to the National Student Money Survey, less well-off families contribute more than expected, while richer ones give less.
Households with incomes of less than £25,000 are not expected to make extra payments to support their children.
But the research found such families paid an average of £54 a month, making them relatively the most generous.
By contrast households earning £60,000 a year paid £160 a month less than expected by the government, making them the least generous.
The survey, conducted by the money advice site Save the Student, found that the average student gets £138.50 from the Bank of Mum and Dad each month.
The survey also revealed that male students appear to receive more than female students.
While males received an average contribution of £161 a month, female students received £135.
Are you paying off a student loan? BBC News has set up a new UK Facebook group all about affordable living. Join the Affordable Living group here.