Supermarkets win card fee court battle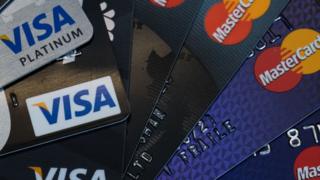 Three of Britain's biggest supermarket chains have won the latest stage of their legal battle against card operators Mastercard and Visa.
The Court of Appeal confirmed two earlier rulings that the card charges - known as interchange fees - infringed EU competition law.
Sainsbury's, Argos, Morrisons and Asda have all argued in previous cases that the charges were too high.
Retailers pay the fees to banks when customers use a debit or credit card.
The charges in question were paid until December 2015, after which time the were capped by the EU.
The judges also overturned a previous ruling, in which Sainsbury's lost a case against Visa.
However, the court decided to refer all three cases back to the Competition Appeal Tribunal. It will assess what a fair level of interchange fee should have been, and determine what damages the supermarkets should receive.
How credit cards changed the way we spend
Sainsbury's welcomed the decision: "We will consider the judgment carefully and remain confident in the next hearing at the Competition Appeal Tribunal, which will examine whether there is any lawful level of interchange fee for either scheme and establish our damages."
Mastercard said it would also consider the ruling in detail.
"However, we continue to firmly believe that retailers derive real value from our network, and we are committed to helping our retail partners grow their businesses and encourage the adoption of ever more convenient, safe and secure payments."
Interchange fees on credit card payments are now capped at 0.3% of any transaction, with debit card fees capped at 0.2%.
However at one time the fees charged were as high as 1%.
The case is unrelated to the class action against Mastercard, initiated by Walter Merricks, which was rejected by the Competition Appeal Tribunal in July 2017.