Carbon dioxide crisis to hit supermarket food choice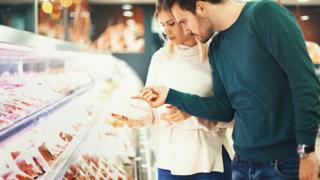 The carbon dioxide shortage will start affecting some supplies to supermarkets this weekend, the Food and Drink Federation has warned.
CO2 is used to stun farm animals, put fizz in carbonated drinks and is used in packaging, but is in short supply.
Federation chief executive Ian Wright said carbon dioxide supplies were not expected to resume until next week.
He said that while stocks would not run out, "choice will be eroded".
Mr Wright told BBC Radio 4's Today programme: "We will see fewer chicken dishes, fewer pork and bacon dishes.
"We'll see probably less carbonated drinks and certainly bakery and other things that benefit from what's called modified atmosphere packaging, which is plastic packaging with a tray underneath and a dish of food in them."
---
Have you noticed a shortage of food and drink at your supermarket? Is there less choice of beer at your local pub? Please email haveyoursay@bbc.co.uk with your stories.
---
A number of companies have reported disruption to production because of the shortage.
Warburton's, the UK's biggest producer of crumpets, said it has been forced to halt production at two of its four plants.
The company uses carbon dioxide to give its crumpets a longer shelf life and prevent mould.
Earlier this week the Wetherspoons and Ei Group pub chains said they had temporarily run out, or were running short of, beers including John Smith's, Amstel and Moretti as well as Strongbow cider.
The British Retail Consortium said: "We are aware of specific pressures in some areas such as carbonated soft drinks, beer, British chicken and British pork but the majority of food products are unaffected and retailers do not anticipate food shortages. However, it is likely that the mix of products available may be affected."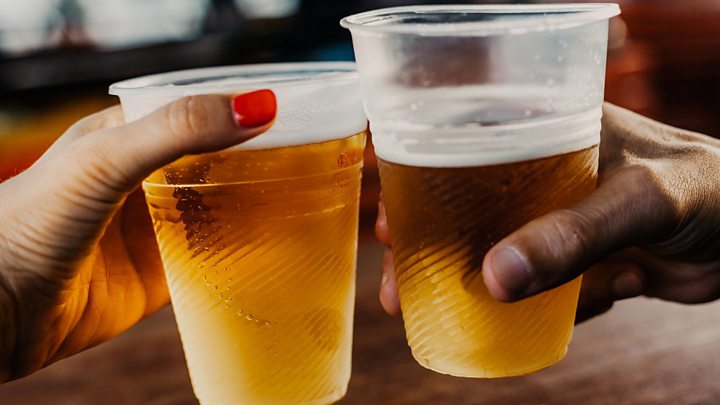 The Food and Drink Federation's Mr Wright said that even if supplies of CO2 resumed next week, it would take some time before it made its way to food and drink producers.
"Inventories of products have been eroded quite a lot over the last week and not many people keep very large stocks of products because it is not cost-efficient," he explained.
---
It's not a crisis ... yet
Jaega Wise, head brewer at the Wild Card Brewery in Walthamstow, east London, says the CO2 shortage has most affected the bottling side of the micro brewery and bar business.
"This week I had 2,000 litres of beer that was meant to be sent off for bottling and then I get a phone call from our bottler saying 'we simply can't take it because we have no CO2'," she says.
And it is a problem facing all types of brewers - even those who make cask beer.
Ms Wise says that while it is possible to make cask ale without CO2 because of the natural carbonation that yeast provides, she says all brewers use carbon dioxide "to move beer in between tanks, we use it to purge tanks, we generally use it a lot in the brewery itself, so it is a problem for cask producers as well as bottles as well as kegs".
She says Wild Card has just enough CO2 to keep its beer fizzing. "We're not in a crisis moment yet. I would say keep on going to the pubs, still keep on enjoying the football but if this carries on for much longer we're going to be in trouble."
---
Quality Pork Limited, which operates Scotland's biggest abattoir at Brechin, is closed and other meat producers are considering changes to use less CO2.
Andy McGowan, chief executive of the Scottish Pork Producers co-operative, said he had heard that supplies of CO2 could restart next week, and that Brechin might receive gas in the second half.
Abattoirs use CO2 as part of a pre-slaughter stunning process.
To avoid overcrowding, Quality Pork had sent 2,000 pigs to the meat processor Tulip in England, while 4,000 remained in Scotland. About 6,000 pigs pass through Brechin every week.
'Nothing concrete'
Some food and drink firms have asked whether the government could help alleviate the problem.
Mr Wright said ministers could ask suppliers that have stopped production for maintenance to put factories back into production.
The Department for Environment, Food and Rural Affairs, and the Department of Business have both said they are monitoring the situation.
They said: "We have been assured CO2 producers are working as fast as they can to get plants up and running again, with CO2 production set to start very shortly."
The trade journal Gasworld, which first revealed that CO2 was running short, said that the plant at Billingham, County Durham, is due to restart on Monday.