MPs seek report into HBOS Reading probe by Lloyds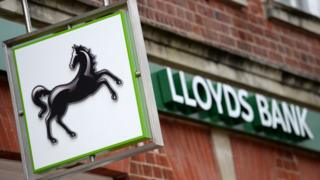 Investigators looking into allegations of a cover-up of a £1bn pound fraud at HBOS have been told by MPs they must hand over their findings to parliament.
Treasury Select Committee chair Nicky Morgan says she found the details disclosed in a leaked report into the alleged cover-up "deeply troubling".
The report claims HBOS failed to disclose the fraud before being rescued by Lloyds during the financial crisis.
Ms Morgan said the committee will seek "maximum transparency".
The Lloyds Banking Group internal report - known as Project Lord Turnbull - claimed that since 2007, HBOS had a strategy to conceal a fraud at its Reading office where corrupt bankers forced business customers to take on a firm of so-called turnaround consultants.
But instead of being helped, customers ended up ruined. Many lost their livelihoods, their marriages and their health.
The report surfaced on the internet last week and was later published by Kevin Hollinrake MP, chair of the All Party Parliamentary Group on Fair Business Banking.
In April, Lloyds Banking Group appointed Dame Linda Dobbs to investigate.
However, the bank hasn't committed to making Dame Linda's findings public. MPs are insisting they must be turned over to parliament.
Maximum transparency
Ms Morgan said: "The fraud at HBOS Reading was a shocking crime that destroyed lives and livelihoods. There are numerous investigations into the events, including the Dame Linda Dobbs Review and an investigation by the Financial Conduct Authority (FCA)."
She said: "There are deeply troubling allegations raised in the "Project Lord Turnbull" report, which are at the heart of Dame Linda's and the FCA's investigations. The committee will consider the findings of this work when it's completed.
"In the meantime, we will continue to press for maximum transparency. It is overwhelmingly in the public interest to understand how such a huge criminal fraud was allowed to happen, and why it took so long for it to come to light."
Lloyds said it "remains determined to get to the bottom of what happened in HBOS Reading and we share the Treasury Committee's desire for transparency".
"We welcome the statement by Nicky Morgan MP, chair of the Treasury Select Committee. We continue to support the FCA investigation and the separate, independent Dame Linda Dobbs review.
"We will, of course, assist the Treasury Select Committee in its consideration of these matters and will fulfil any requests made to us, including provision of Dame Linda's review findings."
"Very serious consequences"
The Project Lord Turnbull report was written in 2013 by a senior manager at Lloyds called Sally Masterton who was helping Thames Valley Police with inquiries into the fraud at HBOS's office in Reading.
Mrs Masterton came across new information raising concerns about a cover-up of the fraud.
After relaying her concerns to a senior executive, who asked her to write-up her findings, Mrs Masterton produced the report.
Its executive summary said: "Concealment set in motion a course of events that has had and continues to have far-reaching and very serious consequences, extending to the Lloyds TSB takeover. LBG is significantly exposed."
After writing a draft report and submitting its front section on 5 September 2013, Mrs Masterton was put on enforced leave on 23 September 2013.
"The Reading incident"
In May 2008, the government knew HBOS was running low on cash but wanted to avoid another nationalisation. HBOS executives proposed to raise money from the bank's shareholders to beef up its finances.
However, in the prospectus for that fund-raising, which is meant to disclose all material financial information, there was no mention of a fraud.
Mrs Masterton found emails showing HBOS executives didn't want to disclose their exposure to "the Reading incident" and discussed keeping it comfortably below a limit of 5% of net income from group continuing operations - or £285m.
Later that year Lloyds shareholders were asked to approve the purchase of HBOS.
Again, the prospectus mentioned nothing about the fraud - nor about £40bn pounds in "stressed assets" - loans where the bank might not get its money back.