Uber tells court 'we needed to change' in London licence appeal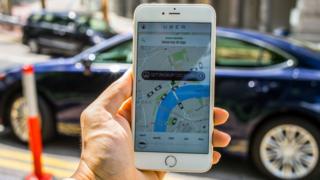 Taxi app firm Uber has told a court it accepted its London operating licence should not have been renewed last year over safety concerns, but says there has been "wholesale change" since then.
Westminster Magistrates' Court is considering if Uber is "fit and proper" to hold a licence in the capital.
Last September, Transport for London refused to renew Uber's licence on grounds of public safety and security.
Uber has been able to operate normally during the appeal process.
The court hearing began on Monday and is expected to last several days.
Tom de la Mare QC, representing Uber, told the court the firm had taken the "unusual" stance of not opposing TfL's reasons for not renewing the licence.
He said: "We accept TfL's decision in September was the right decision on the evidence at the time."
However, Mr de la Mare argued TfL's last three inspections showed a "perfect record of compliance" and said three non-executive board members were now in place to ensure "total compliance to the letter and spirit" of regulatory obligations.
According to the firm, 3.6 million passengers regularly use its app in London and it has 45,000 drivers in the city.
The original reasons for the refusal were outlined in a 21-page document.
Various media outlets have quoted a memo reportedly sent by Uber to Transport for London, in which it said that as many as 1,148 London-licensed Uber drivers had been accused of "category A" offences such as sexual incidents, stalking and dangerous driving.
Reforms
Since being denied a licence to operate in London, Uber has implemented a number of changes.
Uber now reports crimes directly to the police - previously it had logged criminal complaints with Transport for London, which caused delays.
Drivers are now only allowed to use the app in the region they hold a private hire licence.
The working hours of its drivers are also more tightly regulated. A licensed driver on its app must take an uninterrupted six-hour break after 10 hours of driving with a passenger or travelling to a pick up.
The company has also revamped its leadership. Three independent non-executives have been appointed to its UK board.
---
Analysis by Rory Cellan-Jones, BBC technology correspondent
A kinder, gentler and humbler Uber - that is the image the taxi app company hopes to project in court this week as it battles for its future in what is one of its most important markets.
It will stress that a lot has changed at a business that once prided itself on confronting local regulators in a whirlwind of creative disruption.
A new boss, Dara Khosrowshahi, came to London and actually said sorry, and in February new measures were announced to co-operate with the police over allegations of driver misconduct - Transport for London's main concern when it refused a new licence.
The fact that Uber is seeking a new licence for just 18 months, rather than the full five years it expected last autumn - and that it appears to have been agreeing with TfL a list of conditions it will have to meet - shows that it accepts it is still on probation.
---
Legal battles
Uber has also had difficulties getting licences in Brighton, York and Sheffield.
In a separate case in 2016, Uber lost a legal battle over the status of its drivers.
A London employment tribunal ruled that its drivers were workers, rather than self-employed.
It meant drivers would be entitled to holiday pay, paid rest breaks and the national minimum wage.
---