Which? calls on government to fix food labelling 'chaos'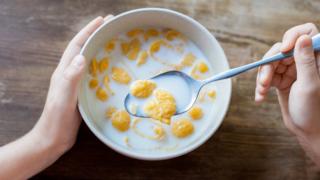 It is not easy to eat healthily, but doing so is being made even harder by "misleading" food labels, according to Which?.
The consumer group is calling on the government to fix the "chaos" of food labelling standards when the UK leaves the EU.
Which? says "traffic light" labelling - indicating that are foods high in salt, sugar or fat - should be mandatory.
Under EU rules it is only voluntary, so some manufacturers do not do so.
While many cereal makers have reduced sugar levels in their products in recent years, Which? said consumers were still being given a "bewildering range of information about nutrition and portion sizes".
It said sugar levels were still at "whopping" levels in some cereals, including Kellogg's Frosties and Crunchy Nut Cornflakes which contain 37g and 35g of sugar per 100g serving - the same as Burton's Wagon Wheels.
Nestle Oats and More Almond cereal contains 25g of sugar per 100g, or more than two teaspoons of sugar per recommended 40g portion, whilst the ingredients listed six separate forms of added sugar, including glucose syrup and honey.
NHS guidelines state that more than 22.5g per 100g is a high, or "red", level of added sugar.
Some manufacturers, such as Dorset Cereals, have reduced the recommended portion sizes for their mueslis, making it appear that sugar content is shrinking. Nestle includes the nutritional impact of adding milk to its cereal in its labelling.
Which? said consumers could also be confused by labelling based on old government guidance that advised a maximum of 90g added sugar per day.
Despite the guidance being cut to 30g in 2015, Which? said EU regulations only reflect the earlier UK guidance.
"It is clear that the current, non-standardised food labelling system is at best confusing and at worst misleading," said Alex Neill from Which?.
"Helping people to compare at a glance how much sugar, salt and fat a product contains has proven to be an effective way of helping them to make healthier food choices," she said.
Many supermarket products have voluntarily adopted the traffic light system, which labels foods green, amber or red, to help consumers easily identify products that have low, medium or high levels of salt, fat and sugar.
But despite its popularity with healthy-eating advocates, this traffic light system has not been adopted by some big manufacturers including Kelloggs.
Which? said consumers would be better able to compare products if the traffic light system, including consistent portion sizes, was made compulsory.
"The government must not miss this opportunity to use Brexit to make traffic light labelling a legal requirement, so consumers finally have clear information to make better and more informed choices," said Ms Neill.
A spokesperson for Kellogg's UK said it planned to reduce the amount of sugar in Coco Pops by 40%, stop selling "high sugar" Ricicles and launch a range of vegan, organic and no-added sugar granolas.
Nestle said it used traffic light labelling on products including cereals and gave a figure for the total sugar content.