Energy firms 'forcibly' installing more prepayment meters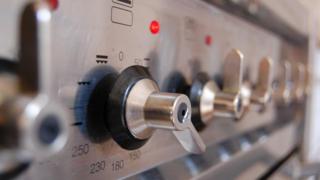 Gas and electricity suppliers are forcing too many customers to use prepaid meters, the regulator has said.
In a report, Ofgem said the number of gas meter devices installed using a court warrant rose by 6.9% last year.
The regulator said meters should be "an absolute last resort" for recovering debt, and suppliers should be putting households onto repayment plans first.
If the number of forced meter installations continue to rise, Ofgem said it would "take tough action".
Protection 'non-negotiable'
The regulator noted that the number of homes being completely disconnected due to debt fell to just 17 in 2017.
But Ofgem's Rob Salter-Church said energy companies "could do much more".
"Protecting vulnerable customers is a non-negotiable for suppliers," he added.
The number of gas and electricity prepayment meters forcibly installed by warrant rose to 84,000, from 81,000 in 2016.
Three suppliers - British Gas, Utility Warehouse and Ovo Energy - were singled out by Ofgem for installing a much higher proportion of meters per head than the industry average.
In response, British Gas said prepaid meters were "a way of keeping a customer's energy supply running when they are in debt and have not contacted us about their bills", and said it offers "help and advice" to customers struggling to keep up payments.
Ovo said it changed its debt recovery procedures in August last year, and had since installed fewer than 10 prepayment meters under warrant.
A spokesman for Utility Warehouse said the company had reduced the number of meters too, and said customers were offered an "interest-free repayment plan" first.
In November last year, Ofgem capped the amount suppliers could charge for the installation of prepaid meters to £150, and the regulator said it expected their use to decline over the coming years.