The small Yorkshire team bidding for Le Mans glory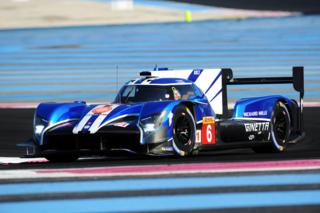 It's a moment to stir the senses. At 3pm on Saturday, the gentle peace of the pinewoods surrounding the French city of Le Mans will be rudely broken by the ear-splitting sound of sixty very powerful racing cars accelerating at full throttle.
The Le Mans 24 Hours is one of the world's greatest motorsport events. It is an annual endurance marathon in which contenders dice at high speeds, on a circuit largely made up of public roads, through night and day.
This year's event will see a remarkable David and Goliath battle on the track - pitting one of the world's largest car manufacturers against a group of highly focused but much, much smaller "privateer" teams.
Among these small buccaneers are two British companies. Formula One refugees Manor Motorsport and racing car constructor Ginetta have teamed up to enter two cars which they hope might be able to stand up to Japanese giant Toyota.
The car in front is... Toyota?
Although privateers have been an important part of the Le Mans 24 hours for generations, it is relatively rare for them to be able to challenge for overall victory. That is usually fought out between major car manufacturers.
In 2016, for example, there were three of them. But Audi and reigning champions Porsche have since left, preferring to focus on the electric racing series Formula E instead. That leaves just Toyota.
The Japanese manufacturer has been a fixture at Le Mans since 2012 - and competed many times before that. But it has never managed to win it.
So Le Mans, for Toyota, is unfinished business. This year, it is the overwhelming favourite. It has the most money, the best resources and has been able to pick and choose the best drivers.
Yet its rivals still feel they have a chance.
Lord of the Manor
Manor Motorsport is a company based near Sheffield. It has been competing in various forms of motor racing since 1990, and set up the now-defunct Manor Formula One team.
With Chinese sponsorship, it established TRSM Racing two years ago to take part in the World Endurance Championship, a series of races with Le Mans as its blue riband event.
Initially the team competed in a secondary class for slower and cheaper cars. But now it wants to contend for overall victory.
Team president Graeme Lowdon says Le Mans was a natural fit for Manor after it cut its links with Formula One.
"We had a really strong team of people, competing at World Championship level", he says
"We're still working with a number of those people. It was a question of finding what to do next, and matching the market to our skills".
Chinese support
Endurance racing is a very different beast from F1. Budgets are much, much lower for a start. A back-of-the-grid F1 team could expect to spend $120m (£90m) a year, while a private entry at Le Mans could get by on $20m.
But raising that money is much harder, and it means private teams exist in a harsh business environment.
Manor is backed by Talent Racing Sports, a Chinese firm which is promoting motorsport in the country.
Earlier this year, the team was forced to withdraw from a race in Belgium due to what was described as a "short-term cash flow problem", as promised funds failed to arrive on time. That situation, it insists, has now been resolved.
"It's like navigating a raft down some rapids", says Mr Lowdon "There are challenges, but we have to face them together."
Although he admits that many of those involved in the Le Mans effort do so largely out of passion for the sport, he believes that ultimately the team can make money.
"These are real businesses", he says. "We do try to be profitable".
Expect the unexpected
The cars themselves are being supplied by Ginetta, a specialist manufacturer based near Leeds.
It makes most of its money from building racing cars and running championships for them - although it does sell a handful of road-going machines as well.
It is certainly a very different business from Toyota, which sells 10 million vehicles a year, and can use the race both to promote its brand worldwide and to develop new technology.
Yet according to entrepreneur Lawrence Tomlinson, who owns Ginetta, his company also has a lot to gain from being seen at the event.
"It's the biggest motor race in the world, and the business rationale for taking part is quite clear," he says.
"Having our car in the race, running in the top class, is a great billboard. If you win you go in the history books. It's showing off our ability in terms of technology".
The event also draws attention to the racing series which Ginetta operates.
Starting with Ginetta Juniors, which is open to 14-17 year olds, they are designed to create a "motorsport ladder" for aspiring racing drivers, allowing them to develop their skills in a structured way.
Mr Tomlinson says competing at Le Mans allows young drivers to see just how far they can go.
"We can take someone from 14 years of age all the way to competing at Le Mans. Young Charlie is one example of that".
Indeed, 21-year-old Charlie Robertson began his car racing career with Ginetta in 2011 - and will now be lining up for the manufacturer at Le Mans for the first time..
Both Ginetta and Manor are well aware that this year the odds of victory this year are stacked against them.
Not only do they have to hope the two Toyotas hit trouble, they also face intense competition from a number of other, equally determined private teams.
But they are also aware that a great deal can happen in 24 hours, and when it's happening at an average speed of more than 225km/h (140mph), you can expect the unexpected.