'The day I was diagnosed was the worst of my life'
By Sarah Finley
Business reporter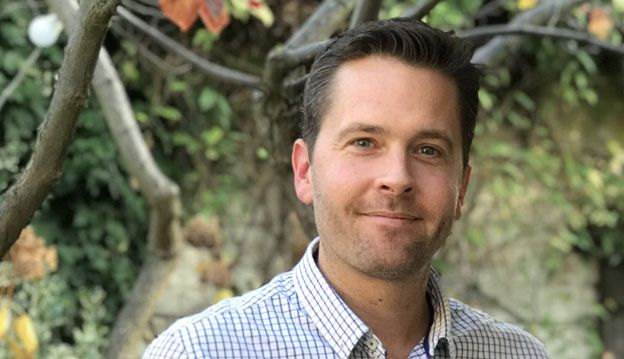 Andrew Hunter was busy running his start-up business when he realised that something was wrong with his health.
"I started losing weight quite quickly, and I had a cough that just wouldn't shift," says the co-founder of job search website Adzuna.
That was three years ago, and the then 33-year-old realised that he had better go and get checked out.
"I had an x-ray, and a body scan, and the cancer was everywhere," he says. "I can definitely say that the day I was diagnosed was the worst of my life."
Andrew was told that he had a potentially life-threatening form of blood cancer called Hodgkin's lymphoma.
"It was so surreal," he says. "One minute I was worrying about a technical issue [at work], the next day I was in hospital having treatment."
Andrew had set up Adzuna in London in 2011 with his business partner and co-boss Doug Monro.
Their idea was to create a website that was able to trawl the internet to collate as many job adverts as possible, and then allow people to find them all via Adzuna.
"We realised that job searchers were being poorly served with what was on the market back then," says Andrew, now 36. "Jobs were scattered over job websites, recruitment companies, individual business' sites.
"We wanted to come up with a way where you could search for all the jobs in one place."
Hiring a software developer to help them set up the website, Andrew quit his job at a business search webpage, while Doug left his position at a property site.
Once they were confident that their platform worked efficiently enough they secured venture capital funding and started to grow the business.
Two years later in 2013 the company got a boost when it won a UK government contract to build an iPad app for then Prime Minister David Cameron. The app gave him the latest real-time data on both the job and housing markets. It also included information on salary trends and other economic data.
With Adzuna also expanding abroad, it all looked like plain sailing, until Andrew got his cancer diagnosis in 2015.
Immediately he had to take a back seat from the business as doctors began to treat his cancer. This meant that Doug not only had to deal with the news that his friend was seriously ill, but he now had to lead Adzuna on his own.
"I think I actually shed a tear when I told our staff about Andrew," says Doug, 43. "It was a tough time.
"But I also had the business to deal with - telling shareholders and board members about the news.
"Of course I went slightly into hero mode," says Doug. "Trying to do everything that both me and Andrew handled, but then I realised I had to delegate, and some of the team had to step up."
Doug and the 32 members of staff at Adzuna thought that Andrew would only be off for a few months, but his body said otherwise.
"Every type of chemo I was given my body rejected," says Andrew. "It was such a blow every time."
To show their support for Andrew, Adzuna employees started to raise money for Cancer Research UK, including going on a 100km (62 mile) sponsored walk.
More The Boss features, which every week profile a different business leader from around the world:
A year into his treatment Andrew was told that the only thing that could successfully tackle his cancer was a drug called nivolumab, but unfortunately it wasn't available on the UK's National Heath Service.
So to raise the money to buy the drug himself - which costs £4,000 for a three-week supply - Andrew asked Adzuna's investors if they would be able to buy some of his shares. They agreed.
"They saved my life," he says. "The drug helped to shrink my tumours enough to have a stem cell transplant."
In late 2016 Andrew had the operation after a matching donor was found - via the Anthony Nolan donation network - to give Andrew some stem cells (special cells produced by bone marrow that turn into different types of blood cells).
With no immune system for 30 days, he spent Christmas of that year in a sterile bubble before his immune system started to regenerate.
By June 2017 Andrew was finally well enough to return to work.
In the two years he had been away from the office the company had expanded substantially, particularly into overseas markets.
"Before Andrew went for treatment we were probably a third international, trying to break into the market, and when he came back it was about two thirds international," says Doug.
Andrew says it was "nice to come back to a fuller team, and see the changes in the business".
Adzuna now operates in 16 countries, and has seven million registered users. Its annual turnover has grown to £12m, and its workforce has almost doubled from the time of Andrew's diagnosis to 60 people. The total investment it has now secured from venture capital firms is also £12m.
The business makes most of its money from companies paying to advertise their jobs on its website, and by charging firms a fee every time it refers a jobseeker to their own websites.
A few months ago Adzuna also won a contract to provide a new search system for the UK government's Jobcentre terminals and job hunting website.
Andrew is still under doctor's orders to try to take things easy, so he is only in the office three days a week, "working on special projects rather than in charge of one particular thing, but it's nice to finally be back".
"Going through cancer of course makes you prioritise things, and look at life in a completely different way," he adds. "The small things that used to annoy me, like getting stuck in a traffic jam, just don't bother me anymore."
Andrew still has regular check-ups, but for now he is cancer free. And his wife is now pregnant with their first child, something doctors told them may not be possible after his treatment.
Related Internet Links
The BBC is not responsible for the content of external sites.