Wage growth slows despite unemployment fall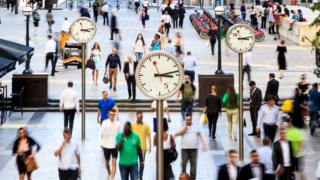 Wage growth unexpectedly slipped to 2.8% from 2.9% in the three months to April, despite unemployment falling by 38,000 to 1.42 million, official figures show.
Economists had expected wage growth to remain steady at 2.9%.
The slowdown is likely to dampen expectations of an interest rate rise in August.
Wage growth is one of the key figures the Bank of England monitors to assess the health of the UK economy.
Although it is above the current level of inflation of 2.4%, it remains well below inflation's five-year high of 3.1% seen in November.
This consumer spending squeeze is one of the reasons many shops are currently struggling.
Wage growth slows despite unemployment fall
Economists said the latest figures reduce the chances of a near-term increase in interest rates.
HSBC's UK economist, Elizabeth Martins, said: "The market is pricing in just a 4% chance of a rate rise at the Bank of England's 21 June meeting, so any change to policy would be a big surprise... at this point, the market sees around a 50% chance of an August hike."
The Bank of England, however, is expecting wage growth to pick up.
Last month it said it expected to see pay growth of 2.75% a year by the end of 2018, rising to 3.5% by the end of 2020.
Analysis by BBC economics editor Kamal Ahmed
Why aren't wages rising more quickly?
There could be many reasons.
Since the financial crisis, lack of investment in new machinery and technology to help firms perform better punched a hole in economic performance.
The public sector pay freeze followed by the 1% pay cap has also weighed on the overall numbers.
Some economists also argue that a lack of bargaining power - union membership has been in long term decline - is leading to fewer widespread agreements on earnings increases.
"Employment has continued to rise, while the unemployment rate remained at its lowest for over 40 years.
"Wages, both including and excluding bonuses, are continuing to increase, and slightly faster than inflation," the ONS's statistician, David Freeman, said.
The ONS also said the number of people in work reached a record high of 32.3 million.
The ONS's latest figures received a mixed reception.
The TUC's General Secretary, Frances O'Grady, said: "Wage growth is stuck in the slow lane. At this rate pay packets won't recover to their pre-recession levels for years.
"We need to speed things up. Extending collective bargaining would boost living standards and help workers get a fairer share of the wealth they create."
And the British Chambers of Commerce's head of economics, Suren Thiru also took a dimmer view.
He said the slowdown in earnings growth was "a concern" and was likely to make a rate rise this year less likely: "The slowdown in earnings growth, together with the recent weakness in a raft of other economic indicators, undermines the case for tightening monetary policy."
But Andrew Wishart, UK economist at Capital Economics, said: "Another strong set of labour market figures in April suggests that firms remain positive about the outlook for demand despite the economy going through a soft patch at the start of the year."