What's eating the pound shops?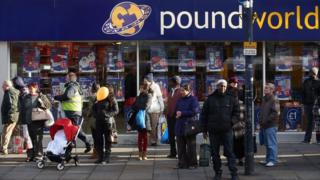 Pound shops have been on the UK's high streets since 1990, when father and son entrepreneurs Keith and Steve Smith opened their first store in Burton on Trent.
At one stage the rise of the discounters appeared unstoppable.
The ultimate in pile-it-high, sell-it-cheap appeared to be an irresistible lure for stretched consumers.
But as Poundworld falls into administration is this a sign they have now had their day?
The latest data shows that the discount sector's growth - including Poundworld and its rivals - has slowed over the past year with an almost 4% fall in the number of shops opening.
We look at four reasons why pound shops may be struggling:
Everything costs a pound
Yes, the selling point is also a disadvantage.
Nailing your prices to the shop front means changing the tags when your costs do simply isn't possible.
Pound stores offer thousands of products at their stated price points.
Of course, some items are priced above the £1, Poundworld for example, bought a parcel of electric toothbrushes, which it sold for more than that.
But these are still typically priced at fixed, eye-catching levels, leaving them almost no room to manoeuvre when the price of the goods themselves changes.
Many pound shop groups are so large that they can deal directly with the manufacturers, plenty of which are perfectly willing to make smaller versions of their normal products to keep the price under a pound.
But with sales falling, negotiating this kind of deal with manufacturers is tougher for discounters.
Fall in the pound
Most of the goods in pound stores are sourced overseas where a cheap parcel of goods can be found.
The items that many people struggle to believe can be made for less than a pound - anything from fishing rods and bags to vases and jewellery - are made in China by specialised suppliers.
The town of Yiwu, for example, is a so called "commodity city" dedicated entirely to the production, exhibition and sale of the thousands of small products that cram the shelves of pound shops.
Any shop owner can visit the city, order a dozen different kinds of vases, teddy bears or fishing nets, anything they want and which can be made for under a pound, fill a container and have it shipped back to the UK.
But the sharp fall in the pound has pushed up the cost of these imports, and, with margins already very thin indeed, pound shops have almost no room to maintain profit levels.
Too much competition
Corporate recovery experts Begbies Traynor says there are simply too many discounters in an "increasingly crowded marketplace".
Poundworld's larger rival Poundland has taken customers away from the chain. But pound shops are no longer just competing with each other.
Supermarkets and other discounters also offer cheap deals on goods. B&M - which sells anything from wallpaper to vacuum cleaners - is now dominating the discount field, Begbies Traynor says.
Retail research firm The Local Data Company has provided figures showing the number of pound shops has almost doubled since 2010.
Begbies Traynor also suggests that Poundworld has stretched itself too thinly by continuing to increase its store portfolio on the High Street.
In contrast, many of its peers have been moving to larger sites out of town and in the more profitable retail parks.
Changing retail environment
Poundworld's administrator called the retail trading environment in the UK "extremely challenging".
Owner TPG also said "the decline in UK retail and changing consumer behaviour affected Poundworld significantly".
A big factor has been a fall in discretionary spending, spurred by rising shop prices and weak wage growth.
Couple that with the fact that wages have been rising at a slower pace than inflation - and shoppers have less disposable income to spend in stores and restaurants.
Inflation is not the only cost pressure retailers face. The National Minimum Wage and new National Living Wage for over-25s go up each year, pushing up payroll costs.
Business rates - which rose again in April - are a burden too.
Meanwhile online giants such as such as Amazon have had a huge impact on the High Street as more consumers see online shopping as cheaper and easier than going to the shops.