Store landlords push back against rent cuts
By Tom Espiner
Business reporter, BBC News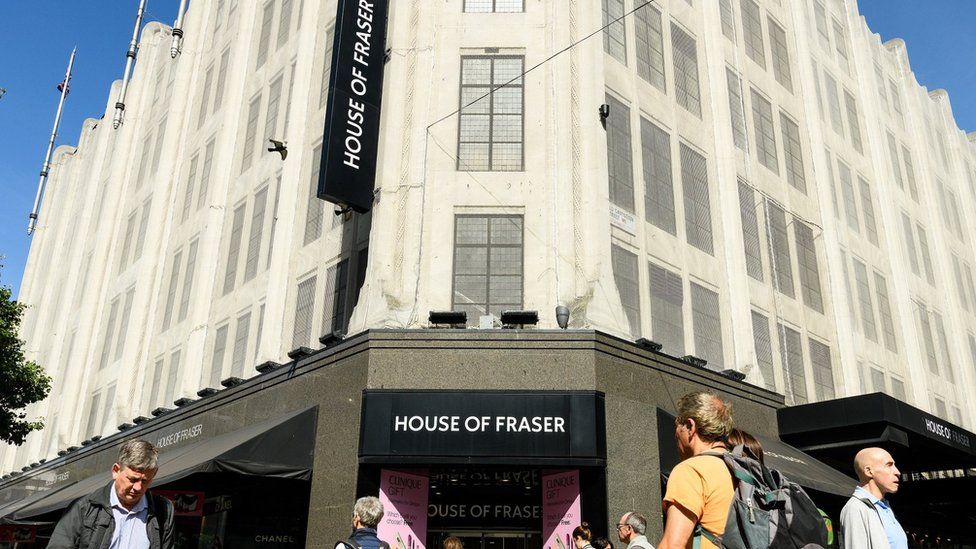 Landlords have called for a government review as more struggling retailers ask for rent reductions.
The British Property Federation (BPF) says too many companies are abusing an insolvency process called a Company Voluntary Arrangement (CVA).
Under the CVA, the department store chain is closing 31 of its 59 shops.
As part of the plan, House of Fraser is asking for a 25% rent cut on 10 of the stores that it plans to keep open.
A CVA is an insolvency process designed to let a firm with debt problems reach an agreement with creditors to help pay off part or all of its debts.
However, the BPF said that it was too often being used to negotiate rent reductions as a cost-cutting exercise for a business, and called on ministers to conduct an independent inquiry into the use of CVAs.
A number of retailers have embarked on CVAs this year, including New Look, Carpetright and Mothercare.
BPF chief executive Melanie Leech said landlords wanted to help genuinely struggling businesses, but some of its members believed that CVAs were being misused.
"Landlords get a raw deal in any CVA - they are going to be one of the biggest creditors," she said.
"They are always going to be hard hit. The issue is whether they are fairly taking a share of the pain."
According to Ms Leech, there can be "unfair discrimination" between creditors, where landlords are asked to shoulder a disproportionate amount of the costs compared with shareholders and banks.
Businesses can also misuse CVAs as cost-cutting measures to negotiate rent cuts or close unprofitable outlets while keeping profitable shops open, she added. "The CVA is not just a tool in the armoury of cost-cutting."
Firms misusing the process also fail to take into account the other parties affected by CVAs. Large pension funds can have stakes in property which take a hit, Ms Leech said, while local economies suffered from shop closures.
The British Retail Consortium said retailers only entered a CVA after exploring all other options and would not have taken the decision lightly.
"CVAs offer retailers the ability to continue trading while taking emergency steps which, if successful, may lead to jobs being saved and fewer property vacancies," a spokesperson said.