The jewellery boss who turned $500 into a $1bn business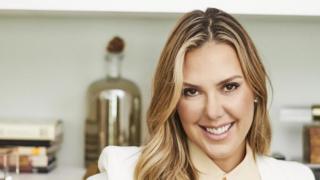 Low on cash, a heavily pregnant Kendra Scott knew she had to come up with a way of making more money.
On bed rest at home in Austin, Texas, awaiting the birth of her first child, she started designing jewellery in her and her first husband's spare bedroom.
This was back in 2002, when the then 28-year-old Ms Scott had just $500 (£370) of savings with which to try to get her business up and running.
After her son was born, she decided that they would go out together to try to sell the earrings and other items.
"Once I had created my first collection, I strapped my infant son in a baby carrier and placed my jewellery samples in a tea box," says Ms Scott, now 44.
"Then we went door-to-door to Austin boutiques, selling my pieces. I sold out in the first day. From there, I had a business."
Today Ms Scott's eponymous company Kendra Scott is valued at more than $1bn, and her personal wealth is estimated at $500m.
In Forbes magazine's 2017 list of the richest self-made women in the US, she was in 36th place, above the likes of singers Taylor Swift and Beyonce.
Born and raised in the midwestern US state of Wisconsin, Ms Scott went to university in Texas, but a year later dropped out, and ended up living in Austin, Texas' capital city.
She then set up and ran a business for two years, making comfortable hats for women going through chemotherapy. The inspiration came from her late stepfather's battle with cancer, and she donated a portion of the profits to local hospitals.
The idea for the jewellery start-up came after she said she realised there was a large gap in the market - most jewellery was either very expensive or really cheap, with little in the middle.
So her plan was to try to produce quality gemstone pieces that she - and other women - would like to wear, at a more affordable price.
"Every woman, no matter where she stands economically, wants to feel confident and beautiful," she says.
Initially just selling wholesale - supplying other shops rather than opening any outlets of her own - Kendra Scott grew slowly but steadily.
Ms Scott says she was bolstered by hiring good people, who helped her to grow the Austin-based business despite some challenges in her personal life - her first marriage ended following the birth of her second child.
"I focused on building a team of talented people to help me grow the business, and seven of my original employees - all women - are still with me today," she says.
It was in 2010 that the company made the switch to retail, opening its first branch in Austin. Ms Scott says it was a pivotal moment for the business, and she was determined that her jewellery stores would be different from the norm.
"Jewellery stores are known for being intimidating and formal, with velvet ropes and closed cases," Ms Scott says. "I wanted to create an experience that was warm, interactive, and most of all fun."
As a result, customers at Kendra Scott stores are encouraged to pick up and try on the jewellery. Shoppers can also design their own pieces in-store, by mixing and matching different gem stones with different earrings, necklaces, bracelets and rings.
Today the business has 80 retail stores across the US, and a website that ships globally. In addition, its jewellery is stocked overseas by the likes of Selfridges in London.
The company has about 2,000 workers, 96% of whom are women. And while it is now backed by investment companies, Ms Scott remains the majority owner.
"Kendra is like a unicorn in our industry," says Karen Giberson, president of the Accessories Council, a trade body that represents fashion accessory brands. "She defies trends. If you look at it, you are left thinking why is this brand on fire when others are struggling?"
More The Boss features, which every week profile a different business leader from around the world:
Ms Giberson says that a key reason behind Kendra's success is that the designer is "the real deal" - she was a young mother who worked very hard to get where she is.
"On top of all that, she is really nice, and that trickles down in the company, into the stories that foster a sense of community which customers enjoy," says Ms Giberson. "It's the shadow of the leader."
In terms of her actual jewellery, Ms Scott has succeeded in offering customers exactly what they want, and at the right price, says Ken Downing, fashion director at department store group Neiman Marcus.
"What Kendra has done well is offer jewellery with a personal sense, and a strong look, at a price the customer can feel good about," he says.
Ms Giberson adds that customers are also impressed by all the charity work done by the company.
Last year the company donated $5m in cash, and thousands of pieces of jewellery, to a number of charities, primarily for women and children.
One example of the company's philanthropy is its Kendra Cares Program, whereby patients in children's hospitals can make Kendra Scott jewellery - for free - for themselves, or a parent or other care giver.
Kendra Scott staff also committed more than 2,000 hours of volunteer work, and its stores across the US hosted more than 10,000 fundraising events.
Ms Scott says that the company is committed to continue to do all this charity work because she established the business on three core pillars - "family, fashion and philanthropy", which "guide everything we do".
To meet the "family" pillar the company offers generous parental leave for both full and part-time employees, adoption and infertility financial assistance, and a fund that supports families in times of crisis. Staff can also take babies and small children to work with them.
"While jewellery and fashion may seem like a superficial industry, I see it much more importantly as an opportunity to do good in our communities," says Ms Scott, who is married with three children.