Barclays boss Jes Staley: US matters more than Europe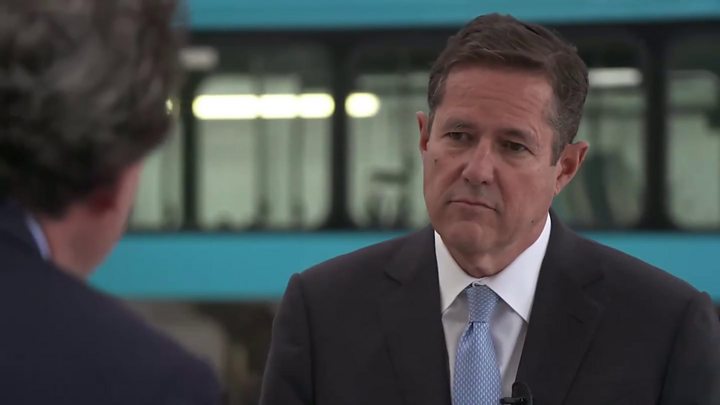 If London is to stay competitive as a global financial centre, it should be more focused on what is happening in Donald Trump's US and less on squabbling with Europe.
That's the view of Barclays chief executive Jes Staley, who warns that for the first time since the financial crisis, the US is following a very different path from the rest of the world on financial services and one that threatens to give it a global competitive advantage.
Although it might make sense to remain in lockstep with the EU when it comes to regulation of chemicals, aerospace and pharmaceuticals, financial services is different.
"Obviously we would like to keep the city as closely connected to the European Union as we can, but we have to watch what's going on in the US," he says.
"And to the extent that they go down a different regulatory path, having the flexibility to recognise what's going on across the Atlantic, to keep London competitive with Wall Street as well, I think it's something that all of us need to consider as we negotiate our proximity with Europe."
Donald Trump has already cut company taxes from 35% to 21% and just last week, US regulators met to discuss easing some of the restrictions imposed on banks making bets in the markets with their own money.
The proposed reform of the so-called Volcker Rule would make it easier for banks to help smooth client transactions by acting as a short-term buyer or seller of stuff that customers are trading - making US banks more effective and more attractive than European or UK banks.
This marks an important departure from the fairly harmonised international approach since the crisis, according to Mr Staley.
"I think the G20 countries worked quite well in trying to have an equivalency as we re-regulated the financial industry between Europe and UK and US and Asia," he says. "That's sort of being challenged now with what you're seeing going on in the US."
"So your position is, stay aligned as you can with Europe, but not at the cost of losing ground to the US?" I asked him.
"I think that'd be a fair conclusion, yes."
'Mutual recognition'
Mr Staley's position puts him in the same camp as the Bank of England governor, Mark Carney, who has said clearly there is no way the UK can ever be a rule-taker from Europe.
It would be crazy, so the argument goes, for the world's leading financial centre with a truly global footprint, competing against New York and Hong Kong, to be taking its rulebook from an outside third party.
The Bank of England prefers "mutual recognition", which effectively means the UK saying, "You just have to trust us to do the right thing - after all, we are more experienced at this than you. And we will trust you to do the right thing too."
The EU has dismissed this so far - and for some understandable reasons.
Most of the EU's wholesale banking is done in London. The UK enjoys a massive trade surplus in financial services with the rest of the bloc.
That means big German and French companies doing business with banks based in London and 90% of euro-denominated trades being settled there. It's the source of wealth and tax revenue that other EU countries covet.
Chancellor Philip Hammond is thought to take a slightly different view to the Bank of England and is much keener to keep the UK as closely aligned with Europe as possible. Financial service exports to the EU totalled £22bn last year.
That's a heck of a lot of money. But it's only 1% of UK GDP. Maintaining the UK's independence and flexibility to keep up with the rivals across the pond, on the other hand, is priceless, according to the Barclays chief executive.