Pensions regulator head Lesley Titcomb to step down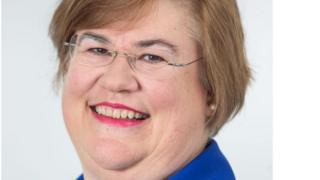 The head of the pensions watchdog, Lesley Titcomb, will step down in February at the end of her contract.
During her time as its chief executive, The Pensions Regulator (TPR) has used anti-avoidance laws to force companies and owners to pay more than £1bn into their pension schemes.
These include former BHS owner Sir Philip Green, who was made to pay £363m into the company's pension pot.
In 2016, TPR also negotiated £329m for members of the Coats pension fund.
In the last year, TPR has approved a restructuring of old British Steel pensions by securing more than £500m from Tata Steel UK to set up a new scheme.
Ms Titcomb has also overseen much of the process, started in 2012, of automatic enrolment, in which companies of all sizes must enrol staff in a workplace pension.
While she was chief executive, TPR helped more than 9.6 million people and saw one million firms set up automatic enrolment schemes - successfully taking seven companies to court for trying to cheat the system.
Mark Boyle, chairman of the board of The Pensions Regulator, said she had been "a real catalyst for change, working with energy and drive to get results and make a difference to the way we work".
Ms Titcomb said: "This has been a difficult personal decision taken after extensive discussion with family and the chairman. I love working at TPR and am immensely proud of what we are achieving.
"But as I turn 57 next month, the end of my contract in February 2019 feels like the appropriate moment to find more time in my life for family, friends, other interests and opportunities."
Mr Boyle said that the search for a successor to Ms Titcomb would start immediately.