RBS to press ahead with branch closures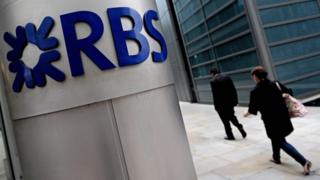 The board of Royal Bank of Scotland has refused to yield to demands for a halt to branch closures.
RBS chairman Sir Howard Davies told shareholders in Edinburgh that use of branches had fallen sharply as customers shifted to digital banking.
He backed chief executive Ross McEwan, who said directors realised closures were difficult for customers, colleagues and communities.
However, banking was changing and if RBS did not respond, it would fail.
In December, RBS announced it would shut a total of 62 Scottish branches.
Ten of them were later given a stay of execution until at least the end of 2018, pending a review.
At a union protest outside the bank's annual general meeting, Unite officer Lyn Turner said the savings from the branch closures did not justify the impact on customers, with more than 300 part-time jobs being lost.
Finance chief quits
Earlier, RBS announced that its chief financial officer had resigned after four years in the job.
The bank, which is 72% owned by UK taxpayers, said Ewen Stevenson would "take up an opportunity elsewhere".
Mr Stevenson had previously been tipped as a potential successor to Ross McEwan as RBS chief executive.
The announcement comes amid reports that the government could announce the sale of part of its stake in the bank as soon as this week.
RBS did not say when Mr Stevenson would depart, only that he "would remain in his position to oversee an orderly handover of his responsibilities".
It said the search for a successor would begin immediately.
Chief executive Ross McEwan said: "For the past four years, Ewen has worked tirelessly with me and my executive team to make RBS a much simpler, safer and more customer focussed business and to resolve a number of major legacy challenges. "
'Cleaner bank'
Earlier this month RBS agreed a $4.9bn (£3.6bn) penalty with US regulators, paving the way for the government to sell its 70% stake.
The long-running probe focused on the sale of financial products including toxic mortgage bonds in 2005-7, ahead of the financial crisis.
It was the last of the "legacy issues" putting an obstacle in the way of the reprivatisation of the bank.
At the time, Mr McEwan said the settlement would create a "cleaner bank" that was easier to sell.
Chancellor Philip Hammond said the agreement "marks another significant milestone in RBS's work to resolve its legacy issues, and will help pave the way to a sale of taxpayer-owned shares".
Short notice
Mr Stevenson told reporters attending the bank's annual general meeting that the government did not discuss its intentions over RBS shares with the bank.
Mr McEwan said he was only notified "a few minutes" before the last share sale began in August 2015.
However, the out-going finance director also expressed doubt about whether a government share sale was imminent, in the light of political confusion in Italy.
"Obviously when you look at what's been happening in the markets in the last few days with Spain and Italy and a significant sell-off in bank stocks, I would be surprised if now is an optimum time to sell stocks," he said.