Will a US-UK free trade deal ever happen?
By Natalie Sherman
Business reporter, New York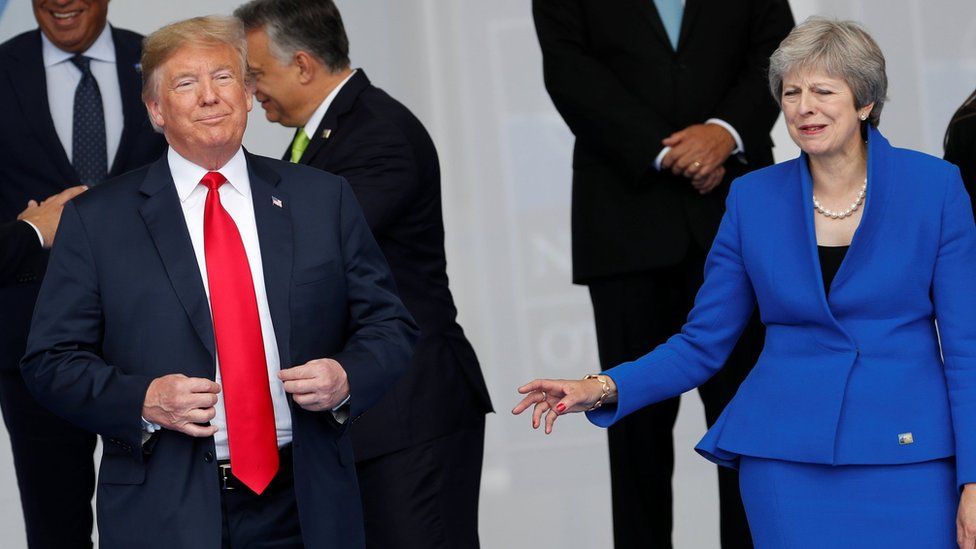 A year ago, President Trump buoyed hopes of a trade deal between the US and the UK, pledging a "powerful" pact that would happen "very, very quickly".
But as Mr Trump meets with Prime Minister Theresa May on Thursday, there is increasing uncertainty that he will deliver.
US trade officials remain consumed by fights with major partners including China, Canada and Mexico.
For US businesses, the UK is also on the back burner.
Industry groups say they will not know if they even want the US to do a deal until the terms of Brexit are finalised.
"The question about whether we can still do a deal hinges entirely on what the UK and EU end up doing," said Marjorie Chorlins, vice-president for European affairs at the US Chamber of Commerce.
"Until we know what the UK-EU future relationship looks like, we really can't say what a US-UK relationship will look like."
Mr Trump's embrace of a UK trade deal marked a striking break with his predecessor Barack Obama, who warned the UK it would be at the "back of the queue" if it left the European Union.
The president remains "ready, willing, and able" to do a bilateral deal as soon as possible, the US ambassador to the UK said this month, pointing to informal talks between the two countries that started last year.
So far, however, the discussions have focused on immediate issues caused by the UK's impending exit from the European Union, such as agreements governing airport landings.
"The reality of getting of getting a trade agreement - it's a big ambition and not easily done," said Duncan Edwards, chief executive of BritishAmerican Business, which represents firms on both sides of the Atlantic. "There's a long way to go."
Ed Brzytwa is director of international trade for the American Chemistry Council, which represents US chemical companies and lobbied heavily during earlier US-EU trade negotiations.
The idea of a UK deal is attractive but "it doesn't seem like there's a lot of activity", he said. "From a US industry perspective, we're focused on the here and now."
Many in the US remain hopeful that the UK outside the EU will be more amenable to US positions on issues that have provoked friction with the European Union.
For example, the US would like to see lower tariffs on agricultural products and less emphasis on protecting names tied to specific places, like Champagne.
"With the UK, I think those things will be easier, so it's a great opportunity," said Senator Rob Portman, a Republican from Ohio who has helped organise a group in the Senate devoted to UK trade.
"Once the UK is able to negotiate directly other countries, we'd like to be at the head of the line."
Formal trade negotiations cannot begin until Brexit is official.
The British mood at that point may not be as welcoming as the US hopes, especially when it comes to issues like regulation, warned David Henig, a former UK trade negotiator.
"It might be easier than negotiation with the EU, but don't mistake that for being easy, mainly because we'll have a lot of domestic pressures," said Mr Henig, now UK director at the European Centre for International Political Economy.
Already, the Trump administration's approach to trade, which seems focused on raising barriers rather than lowering them, has made agreements with Commonwealth countries such as Australia and New Zealand look more appealing, he added.
"This is about a safe a trade deal as you could do in the US, but this is about the least safe thing you could do in the UK," Mr Henig said.
"I think the big question is ... does the US administration actually want trade deals at all?"
The Brexit deal outlined by Prime Minister Theresa May last week left many questions unanswered about how much power the UK would have to negotiate issues such as tariffs and other rules.
David Salmonson, a senior director at the American Farm Bureau Federation, said the UK will have to offer more than the current relationship for a deal to win support in Congress, which has final say over trade agreements.
"People will look askance if it seems like what's on the table to be negotiated is what we already have," he said.
In the end, the two sides may opt to sort out smaller issues without looking for a full free trade deal.
The easy political victory that conservatives on both sides of the Atlantic were hoping for, however, remains a long way off, said Daniel S Hamilton, professor at the Johns Hopkins School of Advanced International Studies.
"That was sort of a political idea that ignored some of the difficulties," he said. "Reality is setting in."