Complaints about loans see sharp rise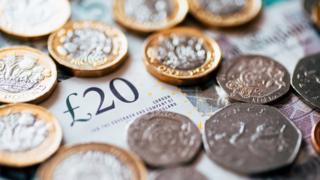 Concerns have been raised about lenders' treatment of customers with high-cost loans, following a record number of complaints to an ombudsman.
The Financial Ombudsman Service said that complaints about borrowing - ranging from store cards to payday loans - had risen by 40% in a year.
More than a third of these complaints were upheld by the ombudsman.
The report comes a day before the results of a major review of the sector by the Financial Conduct Authority.
Excluding complaints about payment protection insurance, almost one in four complaints to the ombudsman service was about consumer credit. These complaints have increased by 40% in the last financial year to just over 36,300, the service said.
The ombudsman upheld 61% of complaints about payday loans, prompting concern that customers were not being treated fairly.
Some 58% of cases were also upheld following complaints about high-cost instalment loans - many of which saw existing debts refinanced and then repaid over a longer period of time.
Caroline Wayman, chief ombudsman, said: "People buy a whole range of things on credit - from everyday household appliances to a car - and in many cases it is manageable and affordable.
"For some people, borrowing may be a necessity rather than a choice. There can be a very fine line between getting by and going under. Even people who seem to be on top of their finances can quickly become vulnerable."
Jason Wassell, chief executive of the Consumer Finance Association, which represents short-term lenders including some payday loan companies, said: "There are a number of reasons why we are seeing such figures reported, including the historic nature of these complaints, strongly held disagreements with the Financial Ombudsman Service on interpretations and the growing involvement of claims management companies looking to generate complaints.
"What we can say, is that most customers borrow without any problem. Changes in recent years mean that people are paying less to borrow, they are less likely to attract additional fees and costs are capped."
The report is the first by the Financial Ombudsman since it announced it had commissioned an independent review following accusations that some consumers' claims were not decided correctly. The claims were made in an investigation by Channel 4's Dispatches into the service.