Have we reached peak prosecco?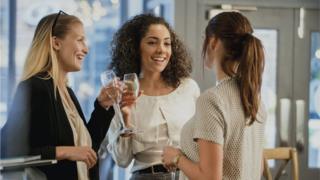 The UK's thirst for prosecco may seem unquenchable, but one firm has warned slowing sales mean it could be nearing its peak.
Last year, sales of sparkling wine in the UK rose by 5%, the smallest increase in six years, according to accountancy group UHY Hacker Young.
The weakness of the pound against the euro meant imports cost more, it said.
But it also warned the sheer popularity of prosecco meant it was no longer seen as aspirational or luxurious.
UHY Hacker said the Italian sparkling wine may have reached its "Burberry moment", having been overexposed due to overstocking by supermarkets.
Designer brand Burberry, with its distinctive check pattern, was once seen as a symbol of wealth available only to the richest and most fashionable.
But its subsequent growth in popularity among soap stars and football players - and their wives - plus a raft of copycat items mimicking the check, meant that at one stage it was in danger of losing its credibility among the fashion set.
"It is hard for a luxury product to make the leap into the mass market without losing its reputation for exclusivity," said UHY Hacker Young partner James Simmonds.
He said that sales of English sparkling wine may benefit from prosecco's overexposure.
"A lot of English wine producers are now vying to capture the space left, as prosecco moves to the mainstream," he added.
---
What's the difference between prosecco, champagne and cava?
Similar methods are used in the manufacture of all three drinks, but with some crucial differences.
Champagne uses the "methode champenoise", which requires it be made from the region's grapes and fermented in the bottle for at least 15 months. Cava is formed from a blend of wines and ferments for nine months as per the "methode tradicional". Prosecco, meanwhile, implements the "Italian Charmant" method - fermenting in steel tanks.
Generally speaking, prosecco is lighter and slightly sweeter than champagne. Cava is normally drier than prosecco - on a par with champagne - but is arguably less complex, without the depth of flavour and distinctive "biscuity" notes.
---