Bank of Mum and Dad 'feels the pinch'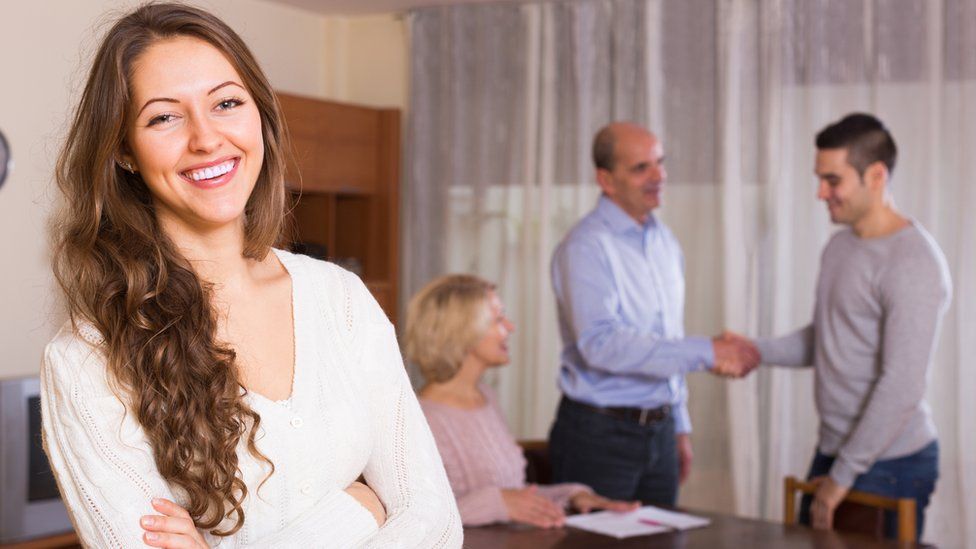 Parents are parting with thousands of pounds to help their children get on the property ladder, but they can't afford to lend as much as they used to.
The average parental contribution for home buyers this year will be £18,000, down 17% from last year's £21,600, according to Legal & General (L&G).
The drop shows that parents are "feeling the pinch", the firm says.
Nonetheless, more than one in four buyers are still expected to receive financial help from friends or family.
In total, financial services firm L&G said 27% of home buyers would get assistance - up from 25% last year.
Despite the smaller sums being loaned, L&G said the so-called Bank of Mum and Dad was still "a prime mover" in the UK housing market.
'My parents had put aside money to gift me'
Francesca Hunt, from London, was given between £20,000 and £30,000 (she does not want to say the exact amount) by her parents last year to help her buy a house.
She had enough money by herself for a deposit on a one-bed flat, but her parents thought a two-bedroom flat was a better investment.
"My parents decided that the price difference from a one to a two bed isn't, in the grand scheme of things, too much more," she says.
Francesca said her parents had already put aside money to gift her at some point.
"If not, I would have inherited the money anyway. Better to use it now to get on the property ladder before prices go up even further," she says.
The money her parents provided was "gifted" and Francesca says they don't own any of her flat as a result of their investment.
L&G said almost 317,000 housing transactions this year would rely on at least some parental help.
However, overall lending was expected to drop to £5.7bn this year from £6.5bn in 2017.
Where buyers live also has a big impact on how much they rely on their parents for help. In London, the average parental contribution is £31,000 compared with £11,000 in Scotland.
Bank of Mum and Dad in numbers
The "bank" is expected to help fund 317,000 homes his year, up 3% on 2017
Contributions are highest in London and lowest in Scotland
More buyers in London (41%) receive help from the Bank of Mum and Dad than in any other area
Under-35s are most likely to receive help from their parents, with nearly three in five getting assistance
Some older home buyers also rely on the Bank of Mum and Dad, with 20% of those aged between 45 and 55 receiving help
"People are feeling a bit of a pinch around the economy and therefore we're seeing pretty much a national trend outside of London for less to be given," L&G chief executive Nigel Wilson told the BBC.
"The volume of transactions depending on Bank of Mum and Dad funding keeps on growing, even as parents find it harder to provide as much money for the deposit."
He said it was not "sustainable or fair" for parents and young people to "remain so co-dependent when it comes to housing purchases".