TSB crisis: No end in sight for customers
By Kevin Peachey
Personal finance reporter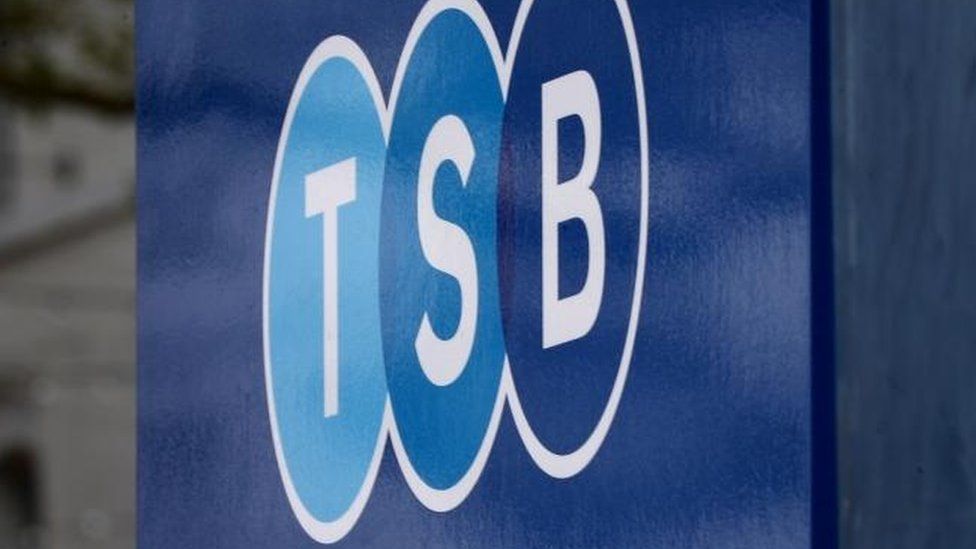 Online payment problems are continuing for frustrated TSB customers - five weeks on from the IT switchover that has caused a crisis at the bank.
Some current account customers and some business clients still face problems making internet or app payments.
The bank said experts from computing giant IBM, called in during the first week of the fiasco, would remain "for as long as it takes" to fix the errors.
It has not estimated how long it will be until services return to normal.
The ongoing problems come in a week when some customers have reported fraudsters emptying their accounts. In addition, some customers who have switched away from the bank have reported receiving letters suggesting they have died.
TSB said it had teams "working around the clock" to fix the issues which began after the migration of data on TSB's five million customers from former owner Lloyds' IT system to a new one managed by current TSB owner Sabadell.
Among the most serious are the payment problems faced by business banking customers, such as Sam Watterson, who runs a lettings firm in Leeds.
He has spent recent weeks manually entering details into a spreadsheet, as it is impossible to download a file from his account. He is also struggling to set up new payments to landlords.
"This is creating a backlog of payments. We are muddling through, but it is taking forever to do something simple," he said.
He said he had reported the issues to TSB but had not heard anything back.
"We are asking business banking customers, who may be experiencing problems making payments online, to contact us so we can help them meet their payment obligations, such as salaries and invoicing to suppliers," a spokeswoman for TSB said.
"We are really sorry for any inconvenience this may cause and we understand how challenging the past few weeks may have been for some of our business customers. No customer will be left out of pocket as a result of any issues experienced."
Ben Alford, from Weymouth in Dorset, said it took more than four and a half hours to get through to TSB, by which time most of the money had gone. TSB said it had put in "additional resources" to support customers.
Several former TSB customers reported receiving letters from various organisations including local councils saying they were sorry to hear of their passing. The letters also said that their direct debits had been cancelled. Customers had then got in contact with those who had sent them the letters, and been informed that TSB had told them that they had died.
"We are aware there was an issue with a small number of our customers switching from or closing their account with TSB, which resulted in an error in the cancellation or transfer of some of their direct debits," a TSB spokeswoman said.
"We are deeply sorry for any distress caused. We are working to rectify this issue and we are really sorry for the inconvenience caused."
Text message balance alerts, such as when customers are going into the red, are not working.
Meanwhile, some customers are receiving redress.
The case of Lorna Connolly, formerly Lorna McHale, was raised with TSB chief executive Paul Pester during his appearance before the Treasury Committee of MPs after the BBC revealed how she was unable to access her account days before her wedding day.
She said she had to "ring to grovel" with suppliers for the wedding, including the DJ, the wedding car provider, and those doing her hair and make-up, all of which were small businesses.
TSB rang the day before her wedding to offer her compensation.
"They gave me £100 as a gesture of goodwill, which didn't really alleviate any of the stress, but I was flustered and just accepted," she said.
She said her account was mostly back to normal - a conclusion yet to be the case for every TSB customer.