How many £1m-plus homes are sold near you?
By Kevin Peachey, Clara Guibourg and Nassos Stylianou
BBC News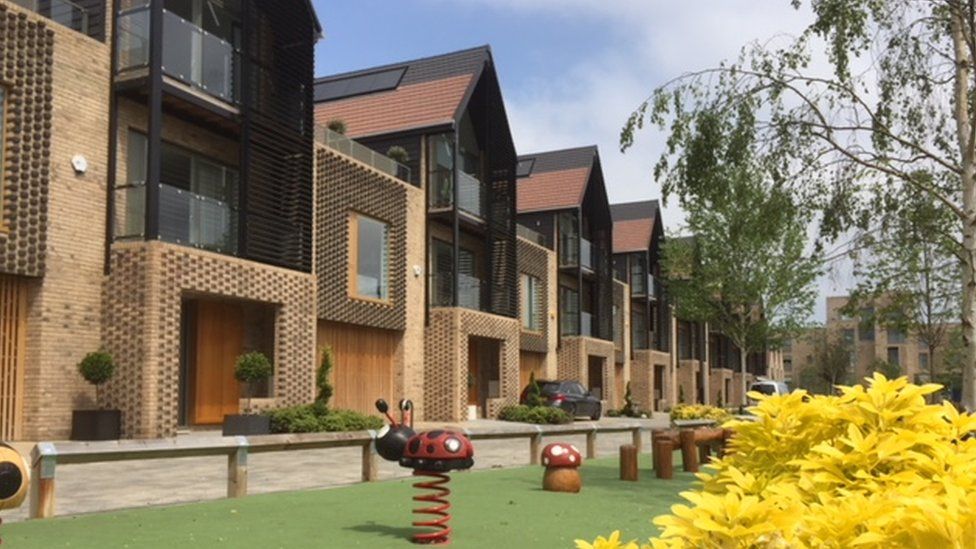 Householders are increasingly likely to live on millionaire row as sales of £1m-plus homes rose to a new high in England and Wales last year.
A total of 16,119 property sales for £1m or more were completed last year, up 5.4% from the previous high in 2016.
Over the past decade, most were sold in London, but sales have doubled in the East of England - the biggest increase of any region in England and Wales.
University cities such as Cambridge and Bristol have seen £1m-plus sales surge.
Rising house prices and demand prompted by investment in these areas has pushed many properties' sale prices above the £1m threshold.
The findings are based on analysis by the BBC data team of Land Registry figures for England and Wales. The data does not cover addresses in Northern Ireland and NIdirect Land Registry does not make comparable data available. It also does not cover Scotland, where Registers of Scotland data is not free to download.
Sorry, your browser cannot display this map
The new millionaires' row
Overlooked by cranes and within earshot of a soundtrack of construction on a huge new development on the outskirts of Cambridge is Hobson Road.
This newly-built "signature" street of four and five-bedroom homes saw six £1m-plus sales in 2017.
Across the city as a whole, a total of 119 sales of £1m-plus properties were completed last year - the first time the number has topped 100. Over the past 10 years there has been a fourfold rise in sales in this price bracket in the university city.
More are being built to meet demand, in part, from newcomers employed at the Cambridge Biomedical Campus - one of the largest medical research sites in the world.
In the window of the local estate agent in Trumpington in the south of the city, 20 posters are advertising properties for sales, and 13 of them are being sold for £1m or more.
David Bentley, partner at Bidwells, said: "Cambridge is a global brand that appeals to all four corners of the globe. [The city] has a continually growing population which leads to a shortage of good quality housing, which leads to house price rises each year, which gradually edges transaction numbers over the £1m threshold.
"It is also true the science and tech sectors are growing faster than any other business sector, which has a corresponding impact on incomes."
Sales of £1m-plus homes have more than doubled in 104 local authority areas of England and Wales in the 10 years since 2007.
Investment in areas with leading universities has led these locations to see some of the biggest increases in such sales.
In addition to Cambridge (a 441% rise), there has also been a surge in Warwick (up 317%), Oxford (up 270%), Bristol (up 260%), and York (up 150%).
The rises over the past decade come despite a drop in £1m-plus property sales in the immediate aftermath of the financial crisis, which hit the housing market as a whole.
In some parts of the country, a property sold for £1m or more guarantees a certain level of luxury. That is not necessarily true in London, which has consistently witnessed the highest house prices in the past 10 years.
Kensington and Chelsea is the only borough that has seen sales in this price bracket fall since 2007, although until recently it still had the most properties sold for £1m or more than any other part of England and Wales. Such sales are now more frequent in Westminster and Wandsworth.
The borough of Hackney has seen the biggest percentage rise, up from 15 sales in 2007 to 270 in 2017.
Regionally, the biggest increase in £1m-plus sales in the past decade was not in London, but in the East of England.
How is the number for your area calculated?
The BBC data team analysed all residential transactions sold at full market value in England and Wales from the Land Registry price paid dataset for the period from January 2007 to December 2017.
All transactions over £1m (including those at exactly £1m) were mapped to local authorities using the latest Ordinance Survey's Codepoint Open mapping file from February 2018 that contains data for each postcode unit in England and Wales. Postcodes not found in the OS Codepoint Open mapping file were not counted as part of the analysis, as they could not be matched to a local authority.
HM Land Registry does not cover addresses in Scotland or Northern Ireland. Registers of Scotland data is not free to download and the NIdirect land Registry for Northern Ireland does not make comparable data available.
Design by Joy Roxas and development by Evisa Terziu and Joe Reed.