William Hill warns prime minister over FOBTs rule change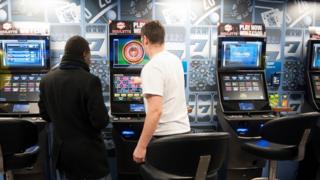 The chairman of bookmaker William Hill has warned the prime minister his firm risks being bought by a foreign rival if it is weakened by new betting rules.
In a letter to Theresa May, Roger Devlin said changes to the amount that can be bet on High Street gambling machines could hit jobs and profits.
The government is expected to announce imminently a final decision on its review fixed-odds betting terminals.
He proposed tougher rules on adverts and a levy to help problem gamblers.
Currently, fixed-odds betting terminals (FOBTs) allow players to stake up to £100 every 20 seconds.
A review's interim findings suggested cutting the maximum stakes to £30, but there have been reports that the amount could be cut to just £2.
Anti-gambling campaigners, who have dubbed the fixed-odds machines the "crack cocaine" of gambling, support the move.
Bookies, however, have warned that such a cut would result in the closure of thousands of outlets, a big reduction in tax paid to the Treasury, and would have knock-on effects on the horse racing industry.
'Catastrophic'
Bookmakers support horse racing through an industry levy and offering prize money.
Mr Devlin's letter, first reported by Sky News and seen by the BBC, said UK gambling was "extremely well regulated".
He wrote: "Sadly, I fear that your government is about to make a decision that is unnecessary and lacking in evidence - a decision that will also be catastrophic for a retail betting industry employing over 40,000 people."
"Consolidation within our sector continues and I would also not want to see the impact of a disproportionate… outcome being a factor in the name of William Hill being added to the list of companies now in foreign ownership," he said.
Mr Devlin said William Hill supported a ban on gambling advertising on television before the watershed, and a levy on the industry to pay for education and treatment of problem gamblers.
Mr Devlin, who was appointed chairman of the bookmaker earlier this year, is also chairman of the housebuilder Persimmon, which has been racked with controversy over a generous executive pay scheme.
Shares in William Hill have been hit hard by fears that fixed-odds stakes would be cut, falling sharply last month on reports that the chancellor, Philip Hammond, would not oppose the move.
On Monday, though. William Hill shares jumped after the US Supreme Court handed down a ruling that would allow states to legalise sports betting, opening up a big potential new market to gambling companies.