CBS sues key investor over Viacom merger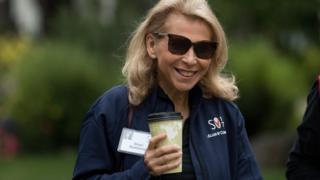 CBS has filed a lawsuit against its biggest shareholder, who is pushing to merge the US broadcaster with Paramount film studio-owner Viacom.
The board of CBS wants to block National Amusements Inc (NAI), a company owned by Sumner Redstone and his daughter Shari, from "interfering" in a meeting to discuss the merger.
It also wants to dilute the shareholdings of NAI, which has voting control at both CBS and Viacom.
NAI said it was outraged" at the move.
NAI is the parent company of both CBS and Viacom, which were separated by Sumner Redstone in 2005.
Shari Redstone is attempting to reunite the two businesses - the second time she has tried to do so since 2016.
The companies had been in discussions about a merger since February.
But on Sunday, a special committee set up by CBS to consider the deal unanimously decided the deal was not in the best interests of its shareholders.
CBS launched the lawsuit, claiming that "the company and its public stockholders face a serious threat of imminent, irreparable harm in Ms Redstone's potential response" to the decision not to merge.
Shares in CBS rose more than 2%.
Restraining order
NAI owns about 10% of CBS, but a dual class structure of shares gives it greater voting power, which is at the centre of the dispute.
CBS said its independence is beneficial to shareholders and Ms Redstone had "injected herself" into merger talks and undermined the current leaders of the company.
The firm is seeking a temporary restraining order to prevent her from "interfering" with a meeting on Thursday, when CBS plans to discuss issuing a dividend that would dilute NAI's voting rights from 79% to 17%.
It said it was worried Ms Redstone might seek to change the board.
CBS cited a dispute in 2016 between NAI and Viacom, which led to the company's chief executive being ousted and the appointment of new board members.
It said: "At the request of the special committee, CBS has called the special board meeting to discuss ways in which the board may protect the company and its stockholders against Ms Redstone."
It said the special committee "has taken this step because it believes it is in the best interests of all CBS stockholders, is necessary to protect stockholders' interests and would unlock significant stockholder value".
It added: "If consummated, the dividend would enable the company to operate as an independent, non-controlled company and more fully evaluate strategic alternatives."
In a statement, NAI said it was "outraged by the action taken by CBS and strongly refutes its characterization of recent events".
The company said it had no intention of forcing a deal that did not have the support of both companies. NAI also said it believed the two companies had agreed to economic terms.
"We intend to defend our position vigorously and look forward to presenting our arguments in court," NAI said.