US adds 164,000 jobs in mixed April report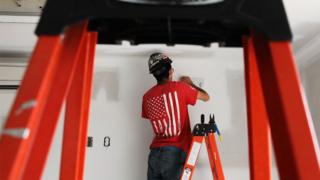 US jobs growth was slower than expected in April, as employers added 164,000 positions.
The unemployment rate nevertheless fell to 3.9%, the first time it has dipped below 4% since 2000.
The average hourly pay of private sector workers increased 2.6% year-on-year to $26.84 (£19.77).
Manufacturing, health care and the professional and business services sector helped to drive April's job gains.
The US has added an average of roughly 190,000 jobs per month over the past year and about 208,000 per month in the past three months.
Surveys of economists had predicted a gain of about 190,000 jobs in April.
Intensifying competition
Reaction to Friday's Labor Department report was mixed.
Some analysts said the figures showed hiring remains solid, but others warned that wage growth remains relatively muted, a sign that the labour market is less healthy than it might appear.
Economists say firms should offer higher pay as competition for workers intensifies.
However, the average hourly wage in the private sector increased just 0.1% over the month.
"Clearly the jobless rate is failing to capture or tell the whole story of what's happening out there in the US labour market," said Lindsey Piegza, chief economist at Stifel.
'Solid'
The US has added jobs every month for more than seven years and is enjoying one of the longest economic expansions in history.
Last month's gains were broad-based.
The professional and business services sector - a wide ranging category that includes advertising, law and temp workers, among others - led the increases, adding 54,000 jobs.
Government employment fell by 4,000, while the wholesale trade sector shed about 9,800 positions.
In addition to April's growth, the Labor Department said employers added 135,000 jobs in March, about 30,000 more than previously estimated.
"The solid April jobs report is further confirmation of the excellent labour market in 2018, even if some of the details weren't as good," said Gus Faucher, chief economist at PNC Bank.
The 3.9% unemployment rate follows six months at 4.1%, but analysts cautioned that the fall was partly due to a decline in the number of people looking for work.
Lacklustre wages
The Labor Department said in April about 236,000 people left the labour force, which includes people working and looking for work.
Ms Piegza said she thinks workers remain on the sidelines for a mix of reasons. Some do not have the skills to match open positions. Others may be holding out for higher pay.
She is worried the lacklustre wage gains will have a wider effect, limiting growth in consumer spending, which is a major economic driver.
"Without meaningful gains in wages, I just don't see how we can expect that consumption is going to maintain even that moderate pace we saw in 2017," she said.