Vanilla price rise proves chilling for ice-cream makers
By Rebecca Wearn
Business reporter, BBC News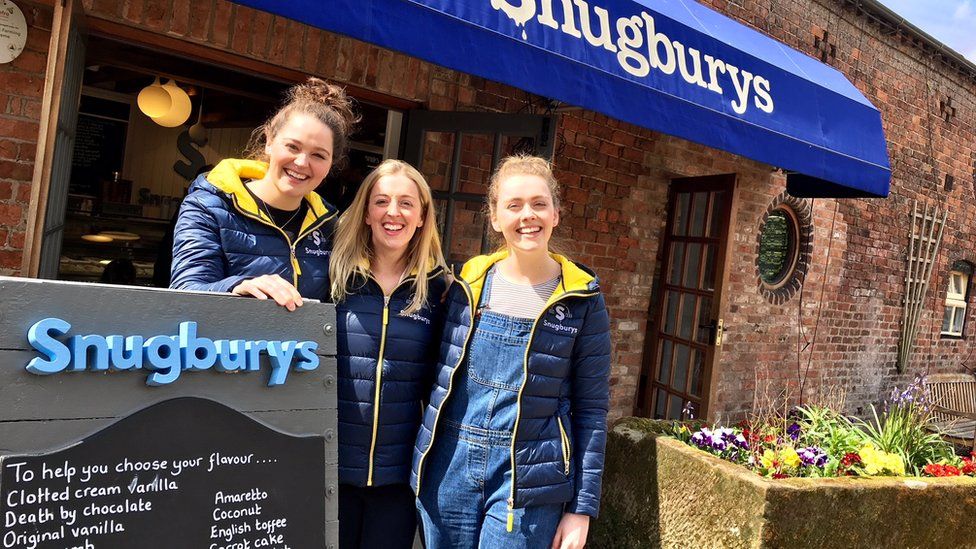 The price of vanilla has soared over the last two years, sending a chill down the spine of UK ice-cream makers.
At around $600 per kilo the sweet ingredient costs more than silver.
Snugburys Ice Cream is run by three sisters near Nantwich in Cheshire. The business churns out around five tonnes of ice cream in a busy week from the family farm.
Around a third of their 40 flavours contain vanilla in some form and they are paying their supplier 30 times more for the extract than they did in previous years.
"It has really gone up, so last year we decided to buy it forward by a year's-worth," said Cleo Sadler, who manages the production side of the business.
"We had to make a decision as to whether we would absorb the costs - which we did in the end."
Buying ahead means the sisters have sufficient stock for the coming summer and can stick to their prices.
But at least one other UK ice-cream business has stopped serving vanilla due to the higher costs.
Julie Fisher, who founded artisanal ice-cream maker Ruby Violet seven years ago, told the BBC vanilla was off the menu in her London-based outlets "for the foreseeable future" because she can't afford the thousands of pounds it would cost.
And others are reported to also be reconsidering their use of expensive extract.
Snugbury's distributes all over the North West of England, but also runs a popular shop on-site where a steady stream of families drop in on their way across the countryside.
Ms Sadler and her sisters, Kitty and Hannah, pride themselves on homemade ingredients, so would not consider synthetic alternatives to vanilla.
"As for the future, well we will have to sit down, crunch the figure, and see how it's going to work out for us for the years to come," she said.
Why is vanilla price soaring?
The vast majority of vanilla - over 75% - is grown on the tropical island of Madagascar, off the South East coast of the African Continent.
"The main reason for the high price is that there was a cyclone in Madagascar last March which damaged a lot of the plantations," said Julian Gale, a commodities analyst for IEG Vu.
"And despite hopes that the price would have eased by now, it's still holding on the high side because demand is so strong."
The BBC's Tim Healy in Madagascar says that in addition to this, market watchers conclude that commodity speculation by a few large buyers is forcing prices upwards.
Equally, the use of the vanilla market to launder money from illegal sales of Madagascar rosewood has provoked price spikes and made the product rather eco-unfriendly.
It's a difficult spice to cultivate, extracted from the delicate vanilla orchid flower. As a result, vanilla is the second most expensive spice in the world, after saffron.
"The other big producers are Papua New Guinea, India and Uganda," said Mr Gale.
"It's exported globally, a lot goes to America as it has a big ice cream industry."
It's not just ice cream: vanilla is popular across sweet foods, alcohol, as well as cosmetics and perfumes.
Natural vanilla extract comes in potent, sweet scented brown liquor. Food manufacturers also purchase spent vanilla powder, the little black dots sometimes seen in ice cream. The price of that has also increased threefold.
Synthetic flavouring called vanillin is extracted from wood and sometimes even petroleum. It is anticipated it will now be more widely used across industries trying to avoid escalating costs.