How VW tried to cover up the emissions scandal
By Theo Leggett
Business correspondent, BBC News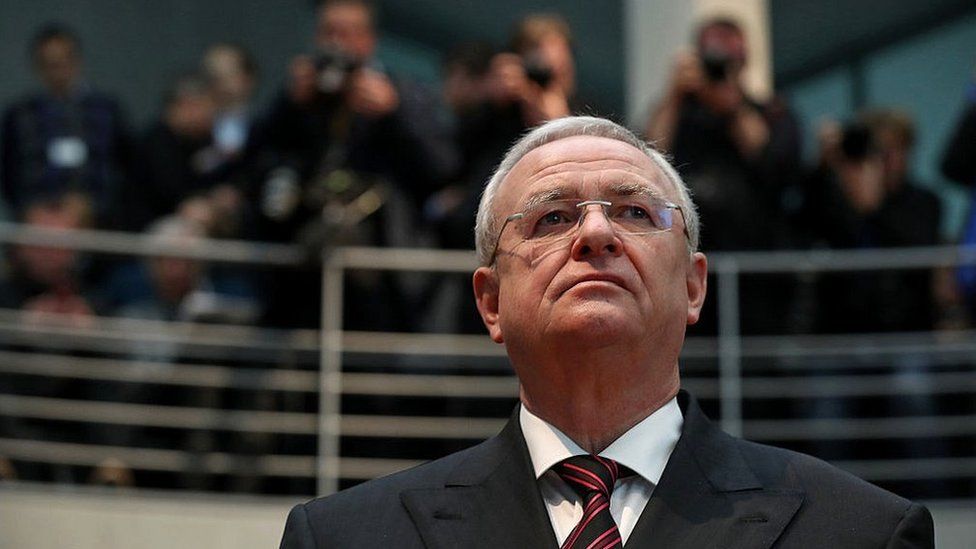 It was an "appalling" fraud that went to the very top of the company. That is the striking allegation made by US prosecutors looking into the emissions-cheating scandal at the Volkswagen Group.
The indictment unsealed on Thursday claims that former CEO Martin Winterkorn was not only fully briefed about what his engineers were up to, he also authorised a continuing cover-up.
These allegations have yet to be tested in a court of law. But if true, they paint a picture of extraordinary executive wrongdoing at one of the titans of German industry.
Dr Winterkorn himself is unlikely ever to face trial in the US. But he remains under investigation in Germany on suspicion of deceiving investors.
The Volkswagen scandal erupted in September 2015, when the company admitted that nearly 600,000 cars sold in the US were fitted with "defeat devices" designed to circumvent emissions tests.
Shortly afterwards the then head of its US operations, Michael Horn, told a congressional committee that the deception was the work of "a couple of software engineers".
We know that was far from the truth. Volkswagen has already admitted as much in an agreed "statement of facts" published last year as part of a settlement with the US Department of Justice.
It explained how instead they designed a system to switch on emissions controls when the cars were being tested, and turn them off during normal driving.
It also described how managers repeatedly sanctioned the use of this system despite objections from some employees, and encouraged engineers to hide what they were up to.
The indictment against Dr Winterkorn goes considerably further - suggesting that the CEO himself was made well aware of what the engineers were doing and authorised a continued cover-up.
It claims that in early 2014, engineers heard about a study commissioned by the International Council on Clean Transport, which showed that VW diesels were producing far higher emissions on the road than in official lab tests.
It says that senior managers were informed, and warned that the study might result in VW's deception being uncovered. A memorandum was written for Dr Winterkorn explaining that the company would be unable to explain the test results to the authorities.
Volkswagen did admit some time ago that a memo was sent to Dr Winterkorn about the ICCT study, but claimed it was sent as part of his "extensive weekend mail", and couldn't say whether or not he actually took note of it.
The indictment goes on to claim that a group of senior engineers set up a task force to deal with official enquiries. It says they "pursued a strategy of concealing the defeat device in responding to questions from US regulators, while appearing to cooperate".
The most damning allegation against Dr Winterkorn, though, is that in late July 2015 he was given a detailed briefing about the situation in the United States - more than a month before the company admitted wrongdoing.
This, the document says, included a PowerPoint presentation to provide him with "a clear picture of how VW was deceiving US regulators … and the potential consequences of being caught".
It claims Dr Winterkorn agreed to a plan of action that involved continuing to conceal the existence of defeat devices.
Ultimately, the scandal came to light because a single employee informed regulators what was going on.
The charge sheet says this was "in contravention of instructions from Winterkorn and despite a specific script for the meeting" approved by other senior managers.
In a statement, the company said: "Volkswagen continues to cooperate with investigations by the Department of Justice into the conduct of individuals. It would not be appropriate to comment on individual cases."
Dr Winterkorn is unlikely ever to face trial in the US. He is a German citizen, and Germany will only extradite its own nationals to other EU countries or international courts. The same applies to another five people charged by the US Department of Justice.
So despite the US Attorney General Jeff Sessions' promise to "prosecute this case to the fullest extent of the law", the new indictment can be seen as a largely symbolic move.
The US has, however, already successfully prosecuted two people in connection with the scandal. Former engineer James Liang and compliance officer Oliver Schmidt are both spending time behind bars.
Another former manager, Giovanni Pamio, faces possible extradition from Germany to the United States. He is an Italian citizen - so unlike his colleagues he can be sent for prosecution abroad.
Dr Winterkorn, meanwhile, could still face prosecution in Germany itself.
He is under investigation by the authorities in Brunswick, near VW's home town of Wolfsburg, on suspicion of fraud and market manipulation.
Those enquiries are understood to focus on what he knew about the emerging scandal, and whether information was withheld from investors.
Prosecutors say their investigations will not be affected by the US indictment. Meanwhile the actions of a number of other current and former senior executives have also come under scrutiny.
Dr Winterkorn, who became chief executive in 2007, has said he was unaware of the issue until shortly before it became public.
Volkswagen itself continues to insist that although eight million cars sold in Europe were also fitted with defeat devices, they were not needed to pass more lenient EU emissions tests and therefore it has committed no crime in the EU.
The scandal has cost the company around $29bn (£22bn) - but any damage to its reputation doesn't seem to have lasted very long.
Last year it sold 10.7 million cars around the world - a new record.