Sainsbury's-Asda deal in nine charts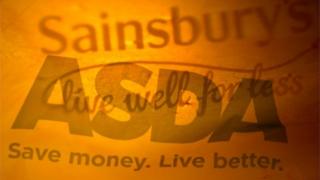 The proposed merger between two of the big four UK supermarkets - if allowed by the competition authorities and approved by shareholders - will create a giant force in retailing. Here, we flesh out some of the key facts in chart form.
Tesco has dominated the UK's grocery scene since taking over from Sainsbury's as number one in 1995. This merger would shake up the scene and leave that current leader trailing in its wake in terms of market share in groceries.
In recent years the only noticeable change in the supermarket landscape has been the rise of the discounters - Aldi and Lidl. The growing presence of these is one of the reasons Sainsbury's and Asda believe the Competition and Markets Authority will view the deal favourably.
Traditionally, Sainsbury's is seen as having a bigger presence in the South East of the UK and London, with Asda stronger around its Leeds home turf. But although Sainsbury's is clearly a bigger presence in the South - after all, it began life in London's Drury Lane - these maps make their geographical profile look a lot more similar than that suggests.
And if we focus on London, we can see Sainsbury's is clearly dominant. In fact it has some sort of outlet in every one of London's boroughs.
The Qatar Investment Authority, a fund linked to the Gulf state's royal family, bought a large stake in Sainsbury's 10 years ago. It has been the biggest shareholder by far since then, and two years ago was on the brink of launching a bid to take over the whole business before it dropped the idea.
Investors have been expecting Sainsbury's share price to fall for some time - as seen by this table of the top 10 favourite stocks for shorting. Shorting is an investment strategy employed by investors betting on a fall in a share price. Traders agree to sell shares they don't own at a certain price in the belief they will be able to buy them at a lower price than that in time to fulfil the order.
Sainsbury's generally makes bigger profits than Asda, although it has been close in some years. But competition in the sector means profit margins for all players are very thin. Further growth is unlikely so a change in strategy is seen as the best way to squeeze out better profits. Tesco has gone the wholesale route with its recent deal with giant supplier Booker. Sainsbury's and Asda are hoping to gain ground through bigger buying power.
The struggle for growth and better profits is clearly seen in this chart, showing investors have been lukewarm about the sector since 2015 amid a general crisis in the sector and the rise of online shopping.
The amount of grocery shopping done online is rising steadily and the trajectory is expected to continue. Even so, that method of shopping still accounts for just a small proportion of the grocery market.