Proportion of mums in work 'up 50% since mid-1970s'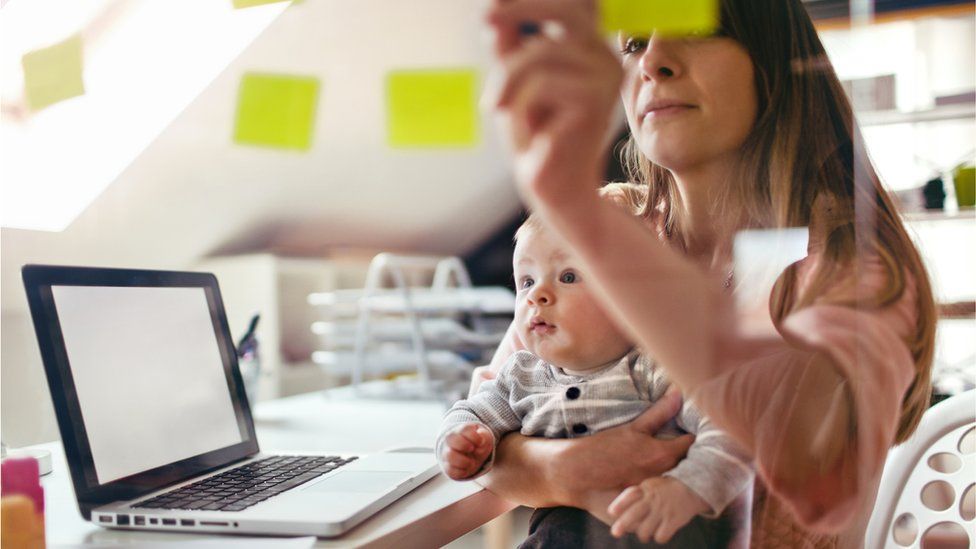 The proportion of working-age mothers with a job has risen by nearly 50% in the past four decades, a study says.
The Institute for Fiscal Studies (IFS) found the increase was behind a wider rise in the number of women in employment in the UK.
It credited a "huge change in working patterns", with women much less likely to stop work when they have children.
But it said the rise in maternal employment had been most noticeable among partners of higher-earning men.
According to the think tank, the proportion of mothers aged 25-54 in paid work grew from 50% in 1975 to 72% in 2015.
The IFS found that maternal employment had increased most among those with children of pre-school or primary-school age, as well single mothers.
But it added: "[Today] for every additional mother in employment partnered with a lower-earning man, there are around two additional mothers in employment partnered with a higher-earning man."
The IFS said women were now "much less likely" to drop out of the labour market around the time they have their first child, and much more likely to stay in paid work in the years following.
This, along with the fact women are having children and cohabiting "both less frequently and later in life", has boosted the proportion of women in work overall.
The IFS found more than three quarters of women aged 25-54 in the UK are in paid work, reaching a record high of 78% in 2017.
That compares with fewer than 60% four decades ago.
The institute also found that London's female employment rate had fallen back compared with other parts of the country.
In 1975, London's employment rate was the highest in the UK, at 63%. But despite strong employment growth in recent years, its figure was 74% in 2017 - joint-lowest together with Northern Ireland.
Barra Roantree, a research economist at the IFS, said: "Employment rates for working-age women in the UK have increased dramatically over the past four decades, particularly for those with young children.
"With the earnings of women increasingly important for these families, understanding the reasons behind persistent differences in the wages of men and women is all the more important."