UK car output slumps on poor demand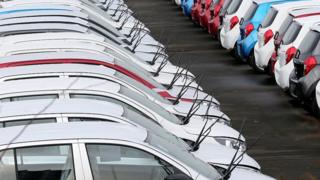 The number of cars made in the UK during March fell by 13.3% from a year earlier as both domestic and overseas demand for vehicles declined.
The Society of Motor Manufacturers and Traders (SMMT) said poor weather had affected production.
But it said that double-digit falls in output for the both home market and exports were a "considerable concern".
The SMMT said the UK must stay in the customs union to ensure "frictionless trade".
The number of cars made for the UK fell by 17.7% in March from a year earlier, while production for markets overseas dropped by 11.9%.
Uncertainty over the UK's exit from the European Union, as well as higher taxes on diesel vehicles, has led to concerns over jobs and production in the UK's car sector.
Earlier this month, Jaguar Land Rover said it would not renew the contracts of 1,000 temporary workers at two of its factories because of "continuing headwinds" affecting the car industry.
Over the first three months of the year, car production fell by 6.3% to 440,426.
Exports fell by 4% in the first quarter, while UK demand tumbled by 14.1%.
Mike Hawes, chief executive of the SMMT, said: "Following recent announcements on jobs cutbacks in the sector, it's vitally important that the industry and consumers receive greater certainty, both about future policies towards diesel and other low-emission technologies, and our post-Brexit trading relationships and customs arrangements.
"Maintaining free and frictionless trade is an absolute priority - it has been fundamental to our past success and is key to our future growth."