TSB admits its internet banking woes are not over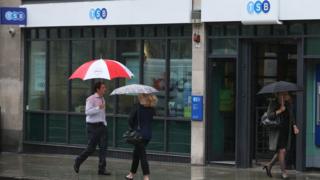 After six days of being locked out of their internet accounts, only half of TSB customers can now access them.
The bank has admitted that its internet bank is operating at only 50% capacity, although its mobile app is at 90% capacity.
The bank's upgrade to its banking systems has been causing chaos for customers since the weekend.
Chief executive Paul Pester said "our internet banking and mobile app isn't functioning as well as it should be".
He apologised and said no one would be left out of pocket.
Earlier on Wednesday, he had tweeted: "Our mobile banking app and online banking are now up and running. Thank you for your patience and for bearing with us."
But by late afternoon he had to admit that huge problems remained.
The bank had hoped to restore services on Tuesday afternoon, having taken down its mobile app and online banking "for a few hours" earlier in the day after it received a huge backlash from annoyed customers.
However, delays ensued because of the large volumes of people wanting to use it after the scheduled downtime.
TSB customers still locked out of accounts
TSB warned its users that it was carrying out upgrades at the weekend between 16:00 on Friday and 18:00 on Sunday.
But a number of customers reported problems long after the scheduled restart time, with many worried about being able to pay bills or even get cash to pay for essentials.
On Wednesday morning, some hours after the system had been back up and running for the second time, Martin Skipworth told the BBC: "I actually managed to log in to TSB internet banking this morning, but once in, it is so slow and when you switch pages, it just hangs.
"I have tried again and can't access anything now, It's a complete shambles."
Bruce McFee runs Environmental Services Pest Control in Paisley. He told the BBC: "TSB isn't fixed! We're a small company of three and currently can't pay wages or suppliers.
"We can't get through on the bank's helpline, it takes more than half an hour.
"I spent an hour and a half to make one payment. I'm stuck in the office when I should be out working."
Others took to Twitter to express their anger or worry about charges.
Apart from rage at being unable to get at their money, on Sunday some customers reported being able to see other customers' details in a suspected data breach that is being looked into by the Information Commissioner's Office.
'TSB gave me someone else's £35,000'
Nicky Morgan MP, chair of the Treasury Committee, called for the bank to explain how it intended to compensate the customers who suffered a breach of potentially highly-sensitive personal data.
Meanwhile, the City watchdog said it was "working with the firm to ensure customers are properly communicated with and are not left out of pocket".
The Financial Conduct Authority added: ""We will be talking to the firm to understand exactly what went wrong and the steps that they are taking to ensure something like this does not happen again."