City is not decamping to the EU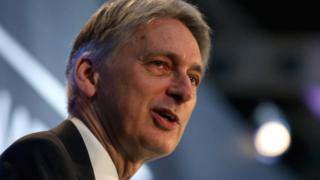 The Chancellor has said that financial services jobs moving to the EU will "remain in pretty low numbers" over the next year.
Philip Hammond told the BBC that because of the agreement on a 20-month implementation period from next year jobs had been saved in the UK.
He said that banks he had met in New York were not "hanging out the bunting" but were now "relatively relaxed" about the next two years.
And that the present situation was much better than many of them had feared.
"The financial services businesses I met yesterday are very pleased we secured the implementation period, that has allowed them to pause their plans for potentially having to move people out of London and into the EU," he told me at the International Monetary Fund Spring Meeting in Washington.
"But we mustn't be complacent about this, clearly if you are operating a business in London serving EU customers in a regulated area like financial services, if the deal we do does not allow you to service your customers in the EU then you will have no choice but to move people from the UK."
Tempered warnings
Mr Hammond met senior executives from Goldman Sachs and JP Morgan banks and asset management firms Blackstone and BlackRock, which make decisions on where to place billions of pounds of investment every year.
Before the Brexit referendum, there were a number of strong warnings that thousands of jobs would leave the City if Britain voted to leave the EU.
But, as the threat of a "cliff-edge" exit receded, and it became clear that Frankfurt and Paris, for example, didn't have the immediate capacity for large scale moves, those warnings have been tempered.
Turning to Mark Carney's dovish comments on the possibility of future interest rate rises to the BBC yesterday, Mr Hammond said the Governor of the Bank of England had obliged markets to rethink their bullishness on the prospect of an increase next month.
"What we can conclude from yesterday, not least because [Mr Carney] said it himself, is that he felt it was important that he clarify to the market where their expectation should be anchored," Mr Hammond said.
"And the reaction of sterling suggests that perhaps their expectations were out of line with what the Governor thought they should be."