Barclays boss Jes Staley faces penalty for 'conduct breach'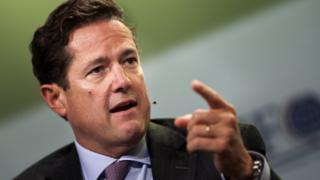 Barclays boss Jes Staley is facing a fine by UK regulators for breaching rules when he tried to identify a whistleblower at the bank.
The Financial Conduct Authority (FCA) and the Prudential Regulatory Authority (PRA) began their probe into Mr Staley's conduct a year ago.
Mr Staley, who has apologised for his conduct, has been given time to appeal.
Barclays said there was no suggestion Mr Staley acted with "a lack of integrity".
A statement from Barclays said the FCA and PRA "are not alleging he acted with a lack of integrity or that he lacks fitness and propriety to continue to perform his role as group chief executive officer".
It also said the two bodies would not take enforcement action against Barclays.
Barclays said that its "management continues to have unanimous confidence in Staley and continues to recommend his re-election as a director at the Barclays annual general meeting on May 1".
But Mr Staley does face a financial penalty from within the bank itself, although that will be decided once the FRA and PRA processes are complete.
Barclays shares were up 1% in early trading.
Analysis: Simon Jack, BBC business editor
Jes Staley is found to have been driving Barclays without due care and attention but won't lose his licence.
He will face a fine from regulators and a cut to his pay from the board but crucially he's been deemed fit and proper to run a bank.
Investors will be relieved - they didn't want to be looking for a fourth chief executive since Bob Diamond was sent packing by the Bank of England in 2012.
Staley has accepted the criticism and wants to get on with the job of returning Barclays to the role of last serious European investment bank.
The City watchdog may feel some heat. Many will say that sparing a boss who tried to track down a whistleblower will discourage those whistleblowers, who can be such an important tool in policing bad financial behaviour.
The board of Barclays supports Staley - we'll find out what the shareholders think at Barclays' AGM in two weeks.
Personal issues
The issue dates back to June 2016, when members of the Barclays board received an anonymous letter raising concerns about a senior employee who had been recruited by Barclays earlier that year.
The letters, which were being treated as whistleblows, raised concerns of a personal nature about the senior employee, and Mr Staley's knowledge of and role in dealing with those issues at a previous employer.
They also raised questions over the appropriateness of the recruitment process followed on this occasion by Barclays.
Mr Staley asked Barclays' internal investigation team to attempt to identify the authors of the letters, which the chief executive thought were an unfair personal attack on the senior employee.
How big could Staley's fine be?
Analysis by BBC Business Editor Simon Jack
We know Jes Staley will be fined for trying to unmask an anonymous whistle blower - but how much?
Mr Staley will in fact face three financial penalties: one from the Financial Conduct Authority, one from the Prudential Regulation Authority and one from his own board.
The FCA and PRA will use a five step formula.
1. Did he derive personal financial gain from the conduct - in this case that's a no.
2. The percentage of annual income a person is fined depends on how deliberate or reckless the conduct is judged to be. Given he has been censured for lack of care and skill, he could well have been deemed to have behaved recklessly.
3. The penalty can be aggravated or mitigated by the level of co-operation the authorities received from the bank. In this case Barclays say they co-operated fully and shared the result of their own internal inquiry - a potential mitigation discount.
4. Is there a case for increasing the fine to act as a deterrent - you bet there is! The FCA/PRA may try to deflect criticism of dealing leniently with him by applying a steep deterrent premium to the fine.
5. If you pay within 28 days - you get a 30% discount.
So that's how the PRA and the FCA crunch the numbers.
The board of Barclays has already said he may lose a significant chunk of his £1.3 million pound bonus for 2016 which is the year in question. Directors decided to defer the decision on how much until the investigation was complete and they knew the outcome and the regulatory penalty imposed.
That will be known in the next couple of weeks as the regulators do their calculations and present their final findings to the company.
Bottom line - the fine could easily run into seven figures. A hefty fine but certainly not ruinous for a man worth hundreds of millions of dollars.