Four ways to fix the rental market
By Brian Milligan
Personal Finance reporter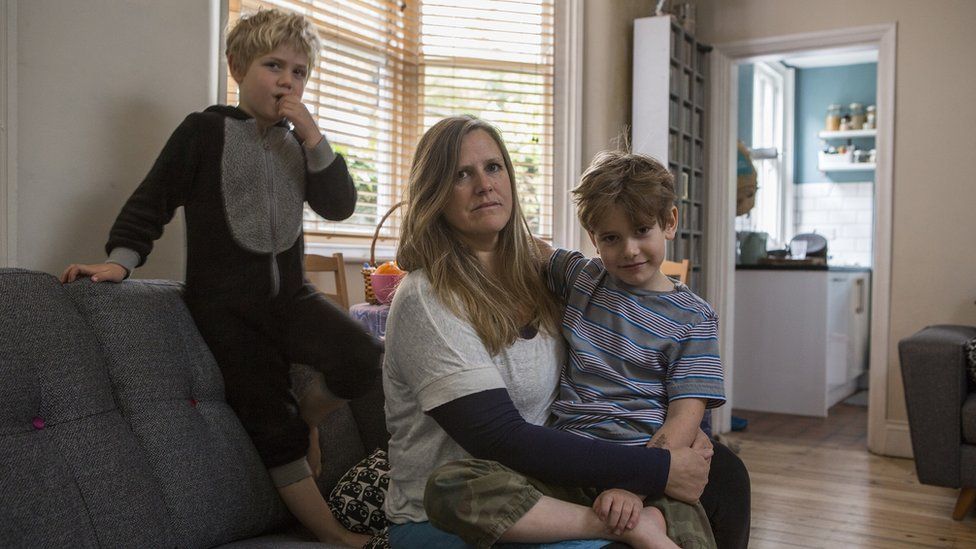 Tracey Strassburg, a mother of two from south-east London, typifies the problems some people encounter when renting.
Because landlords can ask for the properties back - sometimes to sell them - her eight-year old son has had to move home six times in his life.
Such disruption is not good for schooling or family life.
As a yoga teacher, Tracey also finds it impossible to afford the rent of £1,400 a month.
So how can we make renting more secure and more affordable while maintaining a good supply of homes for rent?
1. Make renting more secure
In England, about half of renters are on Assured Shorthold Tenancy agreements. This allows landlords to evict them without reason - known as a "no-fault" eviction.
The other half are on fixed-term contracts, which are more secure.
Under this type of agreement, landlords can only evict their tenants if they break their agreements - for example, by not paying the rent or indulging in anti-social behaviour.
But fixed-term rental contracts are typically for a maximum of 12 months.
Since December last year, tenants in Scotland have had indefinite security of tenure. They have to be given two-and-a-half months' notice of termination and cannot be subject to no-fault evictions.
The housing charity Shelter would like tenancies to last for a five-year period - with landlords only having the power to evict their tenants if they break their agreements or don't pay the rent.
At the last election, Labour campaigned for three-year tenancies.
Many European countries impose limits on rent increases.
In Ireland and parts of France, they are controlled according to market levels in the same area. In Latvia, increases have to be agreed mutually between renter and landlord.
But only in Austria is there a legal maximum rent, or cap.
In England, the rent can normally only be increased once a year, depending on the tenancy agreement. But the law says such increases must be "fair and realistic".
Shelter would like to see rent increases tied to inflation within five-year tenancies. This would enable tenants to plan their finances, but allow landlords to obtain market rents at the beginning and end of each five-year period.
At the last election, both Labour and the Liberal Democrats campaigned for rents to be linked to inflation.
3. Make things easier for landlords
Landlords have complained that the government has made it harder for them to make money over the last couple of years. For example, stamp duty on second homes has had a 3% surcharge since April 2016.
Tax relief on mortgage payments is being gradually withdrawn. And from this month, all new tenancies have to have an Energy Performance Certificate (EPC) rating of at least a grade E.
But if landlords have no incentive to rent out properties, they argue that supply will dwindle and rents will rise.
As a result, the Residential Landlords Association is calling for:
Exemptions from the stamp duty surcharge where landlords add to the supply of new homes
A faster evictions process when tenants damage the property or fail to pay rent. At present, this can take up to five months
Action to stop mortgage lenders preventing landlords from offering longer-term tenancies
A new Housing Court to resolve disputes - an idea the government is considering
While most tenants rent from small landlords, increasingly they are being given the chance to rent from large companies - often insurance companies.
This is known as build to rent (BTR).
Michael McDonald, who rents a one-bed flat in London from developer Grainger, likes the idea.
The huge advantage from a tenant's point of view is that the duration of rental agreements is much longer.
The insurance companies involved are looking for a steady stream of income over perhaps 60 or 70 years, so they are unlikely to throw anyone out who is paying the rent.
Large projects can also increase the supply of flats quite significantly. However, rents are not necessarily that cheap.
Tenants of big companies often find that repairs are done more quickly and that facilities such as broadband can be more reliable.
Related Internet Links
The BBC is not responsible for the content of external sites.