Whitbread shares soar as activist investor builds stake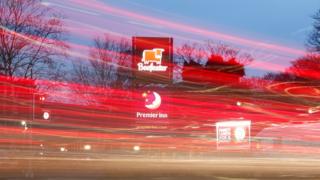 Shares in Whitbread jumped more than 7% after it emerged that an activist investor has built a stake to become its largest shareholder.
Elliott Advisors confirmed at the weekend that it now holds a stake of more than 6% in the company.
According to reports, Elliott Advisors wants Whitbread to be split into its Costa Coffee chain and its Premier Inn business.
A spokeswoman for Whitbread declined to comment.
Shares ended the day 7.2% higher at £42.18, valuing the company at £7.7bn.
The hedge fund not afraid of a fight
Elliott Advisors is the second activist investor to build a substantial shareholding in Whitbread, which also owns Beefeater and Brewers Fayre brands as well as restaurants Thyme, Bar + Block and Table Table.
US hedge fund Sachem Head has a 3.4% stake and has pressed management to consider breaking up the business, as well as a sale and leaseback of its Premier Inn hotel properties.
Whitbread's chief executive, Alison Brittain, said earlier this year: "We remain entirely open-minded about the structure of the business and are fully committed to reviewing it on a regular basis at the board level."
Alpesh Patel, chief executive of Praefinium Partners, the investment company, said he did not think a break up of Whitbread was inevitable.
He told the Today programme: "[Elliott] don't necessarily want the properties to be sold the way that more aggressive activists do, they just want two separate companies so they can value hotels alongside, say Hilton, and Costa alongside say the likes of Greggs and they think that will create shareholder value."
Elliott Advisors buys shares in companies to agitate for change and, it claims, create value for shareholders.
Recently, it backed Melrose's £8.1bn hostile takeover of engineering group GKN.
It is also pressing BHP Billiton to get rid of the mining giant's dual listing structure.
Elliott Advisors, which has a 5% shareholding in BHP Billiton, said in a letter to the board that unifying its structure to list its shares solely in Australia would create $22bn (£15.4bn) in shareholder value,