Car insurance cost drops for first time in three years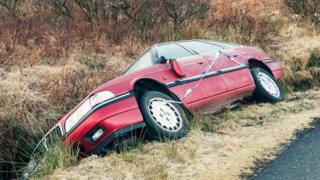 Annual car insurance prices have fallen for the first time in three years, a survey suggests, owing to a reaction to government policy.
Reforms to the law on whiplash and a review into how compensation is paid for long-term injuries were thought to be behind the drop.
The research, for comparison website Confused.com, suggests prices have dropped by 2%, or £13, in a year.
Separate figures show the number of female car owners has risen sharply.
The number of cars registered to women has risen by 21% since 2007 to 11.8 million, according to the Society of Motor Manufacturers and Traders. This compares with a 10% rise in the number of cars registered to men, to 17.8 million.
Insurers are forbidden by law to set different car insurance premiums solely based on gender. However, women pay a lower cost in general owing to the fact that, on average, they drive smaller, less expensive cars than men and have fewer high-value accident claims.
The average insurance price difference between male and female drivers is £95, according to the Confused.com research.
Changes to government policy on the so-called discount rate had led insurers to "soften" their prices, the price comparison website said. This was the first full year of fall year of falling average premiums for three years, it said.
The discount - or Ogden - rate is designed to compensate insurers for the cost of long-term injury claims. It was reduced by the government last April, costing insurance firms large amounts of money. However, in September the Ministry of Justice said it would revise the scheme.
Meanwhile, the government wants its proposals designed to reduce false whiplash claims to be in place by April 2019, potentially cutting costs for insurers.
However, Andrew Twambley, spokesman for Access to Justice (A2J), which is campaigning against the reforms, said: "Insurers are acting prematurely if they are reducing prices to account for whiplash reforms, because the Bill to bring the reforms in has only just been introduced to Parliament.
"The reforms are controversial and are opposed by MPs from all sides of the house, including some MPs on the government benches, so there is no guarantee that the proposals will become law."
Amanda Stretton, from Confused.com - which makes its money, in part, from drivers switching insurers - said: "Finally drivers have had some good news with the end of rising car insurance costs in sight.
"However, it is clear that many motorists are not seeing these savings reflected in their renewal letters, so it is more important than ever to shop around if they want to get a better deal."