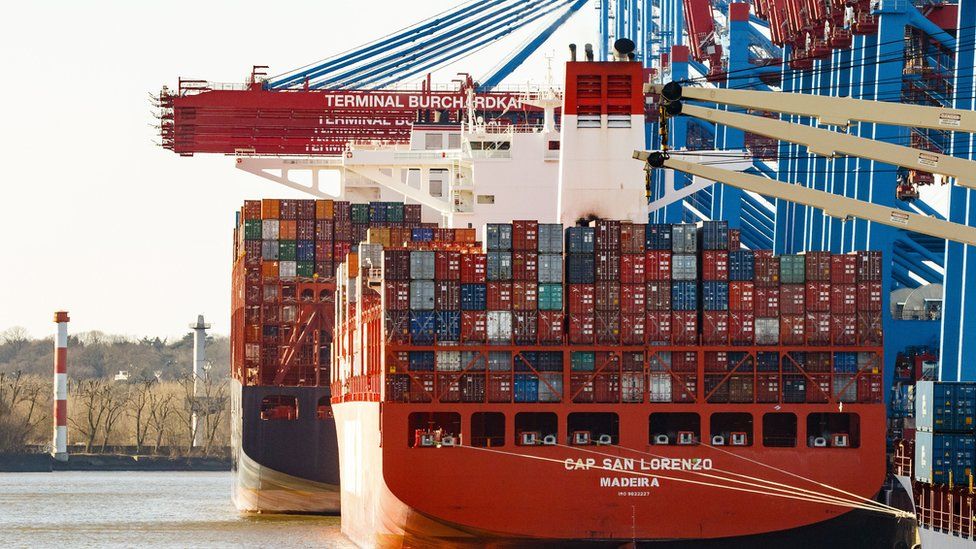 Global trade has seen its most rapid growth in six years, says the World Trade Organization's annual analysis.
But the positive news could be put at risk by tit-for-tat tariff wars that have broken out, according to the head of the WTO, Roberto Azevedo.
Broader global tensions could also see trade suffer.
Last month, President Donald Trump unveiled plans for a 25% tariff on US steel imports from countries such as China and a 10% tariff on aluminium.
That followed an announcement earlier in the year for tariffs - import taxes - on washing machines and solar panels.
The president said that battles on trade were good and "easy to win".
China responded by imposing its own tariffs on US goods and has complained to the WTO and threatened legal action, claiming unfair treatment.
'Unmanageable escalation'
"The strong trade growth that we are seeing today will be vital for continued economic growth and recovery and to support job creation," said Mr Azevedo, the WTO director-general.
"However, this important progress could be quickly undermined if governments resort to restrictive trade policies, especially in a tit-for-tat process that could lead to an unmanageable escalation.
"A cycle of retaliation is the last thing the world economy needs."
He said that countries should show restraint and settle their differences "through dialogue" and collective action.
China has already announced retaliatory action against the US move, announcing tariffs of up to 25% on US imports such as pork, fruit, nuts and wine.
Despite growing fears over a global trade war between the world's two largest economies, trade volume growth in 2017 hit 4.7%, the highest level since 2011.
Stronger world growth and increasing levels of consumption have driven the rise, which has helped, for example, the UK economy, where exports are valued at more than £600bn a year.
WTO economists said that 2018 should see trade growth expansion of about 4.4%, well above the post financial crisis average of 3%, though still below the 4.8% average seen in the 1990s.
The WTO annual trade report said risks were now "tilted to the downside" because of the uncertainty over tariff policy, which could affect business investment and that trade growth would slow to about 4% in 2019.
It also cautioned that central banks were looking to tighten monetary policy - for example, by raising interest rates - at a faster pace.
The Bank of England has already said that interest rates are set to rise more quickly than previously thought, with the next rise expected by the markets as early as next month.