Toys R Us receives several $1bn bids for its Asia unit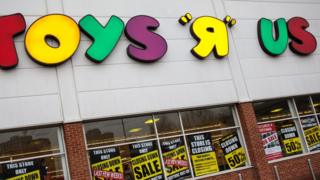 Toy store giant Toys R Us has received bids of more than $1bn from prospective buyers for a majority stake in its Asia business, a lawyer for the firm said.
The US-based firm has operations around the globe, but filed for bankruptcy protection in the US in September amid mounting debt worries and competition from online retailers.
Toys R Us stores in the US and the UK are now being shut down.
However, its operations in Europe and Asia have been described as healthy.
Toys R Us lawyer Joshua Sussberg, from Kirkland and Ellis, told a US bankruptcy court hearing on Wednesday that several bidders were interested in buying an 85% stake in the firm's Asian unit.
He also said the firm was closing in on a deal to sell its operations in Central Europe.
Mr Sussberg was not immediately available for further comment when contacted by the BBC.
Troubled firm
Before running into trouble in the US and the UK, the one-time toy store giant had 1,600 stores across 38 countries.
The business was bought in 2005 by a group of investors, including private equity firms Bain Capital and KKR, which loaded it with some $5bn in debt. The company was crippled by interest payments which at times reached $400m a year.
After a failed restructuring attempt and poor December sales in the US, the firm said in March it would close its stores in the US and Puerto Rico.
At the same time, its UK operation said it would also close its doors after attempts to find a buyer for its 100 retail stores there failed and the firm fell into administration.
Bricks-and-mortar retailers in the US and the UK, among other countries, have been facing mounting pressure from the continued rise of internet shopping.
Attempts to sell off Toys R Us stores in the UK were described as difficult, with one administrator in the UK telling the BBC that any potential purchaser would have a tough time sorting things out, including gaining rights to use the Toys R Us name, which is held by the US parent firm.
"In addition, there are many services provided within the group by different subsidiaries, so if you take over one part, you have to make alternative arrangements or negotiate new terms," Simon Thomas, from administrators Moorfields Advisory in the UK, said.
"Put all that together and becomes very complicated."
Toys R US continues to operate more than 700 stores across Asia, including Japan, China and Singapore.