UK manufacturing output falls 0.2% in February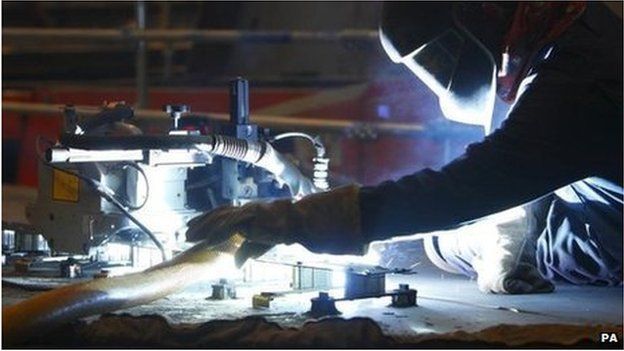 UK manufacturing output unexpectedly fell 0.2% in February - the first decline in almost a year and down from revised growth of zero for January.
Economists had forecast a 0.2% rise in industrial and manufacturing output in February.
The Office for National Statistics (ONS) said output was hit by falls in electrical appliance manufacturing and oil refining.
Output from manufacturing rose by 2.5% year-on-year.
Economists had expected it to be 3.3% higher.
The monthly decline in manufacturing output was the first since March 2017.
Overall industrial output, which also includes energy production, went up 0.1% in February, after a 1.3% rise the previous month.
However, construction output dropped by 1.6% in February, on top of January's 3.1% decline.
The ONS said February's bad weather could have depressed the figures, but the effect was "difficult to quantify".
At the same time, the ONS released figures showing that the UK's goods trade deficit with the rest of the world narrowed in February to £10.2bn. January's figure had been £12.2bn.
Exports of goods declined slightly, but imports fell more sharply, both in value and in volume, the ONS said.
As a result of the reduction in the goods deficit, the UK's overall trade deficit in February shrank from £3bn to £1bn.
Analysis: Jonty Bloom, BBC business correspondent
The construction industry is deep in recession. It has contracted by 3% in the past year, with private house building being the only bright spot. All other sectors have shrunk in size, with public housing building and the construction of infrastructure, such as road and rail projects, down on this time last year.
Spending is also down on new commercial and industrial buildings, offices, shops and factories, for instance, and there has also been a fall in repair and maintenance of buildings, which makes up a third of the industry.
The trade figures are more encouraging, showing the gap between what the UK exports and imports narrowed in February. But over the past three months - which is a more reliable measure - they show the deficit widened, mainly because of a drop in exports to countries outside the EU.
Manufacturing output also fell in February, but the sector has been enjoying strong growth for a long while now and these figures could just be a blip.
Related Internet Links
The BBC is not responsible for the content of external sites.