Shoppers stay indoors over wet weekend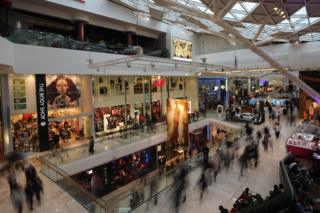 Fewer people went shopping this Easter weekend as bad weather lowered turnout.
Total shop visits were down by 2.4% between Friday and Easter Sunday compared with last year, according to research group Springboard.
This was largely due to a sharp fall in High Street visits - although footfall at shopping centres and retail parks was up.
It comes amid a shopping slowdown which has seen a host of high street brands announce store closures or go bust.
Springboard said High Street footfall fell by 9.6% on Good Friday year-on-year, and by 6.9% on Easter Saturday, as people avoided the wet weather.
Easter has traditionally been a good time for retailers as the improving weather and four day holiday encourage people to spend.
Footfall bounced back slightly on Sunday as the weather improved, but tumbled again on Monday morning by almost 14% year on year.
By contrast, visits to out-of-town shopping destinations and malls climbed for much of the weekend before also falling on Monday.
Springboard insights director, Diane Wehrle said: "Notwithstanding the rain impacting high street footfall, the results for shopping centres and retail parks will be a fillip for multiple retailers following the recent tough trading conditions.
"In overall terms, however, footfall is still down compared with Easter last year."
"Easter footfall also declined in the previous two years, so it is clear that Easter is becoming less important as a key retail trading period."
She said that retail parks and shopping centres also benefited because multiple retailers were offering discounts after a poor quarter of trading.
Since January, Toys R Us and electronics retailer Maplin have filed for administration, while fashion retailers New Look and Select have promised to close hundreds of stores.
Retailers have been buffeted by higher overheads, changing consumer habits and the rise of online spending.
Many also embarked on debt-fuelled expansions that left them dangerously exposed.